Breezin' Entertainment Launches Event Entertainment News Podcast Channel Breezin' Chats
Press Release
•
updated: Jun 25, 2019
Breezin' Entertainment's podcast, Breezin' Chats, is shaking the entertainment world, reaching a remarkable milestone with 10 episodes already aired since the launching of the podcast early this year. To listen or to stream the podcast, please visit https://breezin.com/podcast/.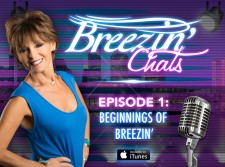 TAMPA, Fla., June 25, 2019 (Newswire.com) - The entertainment industry is constantly on the move. Wedding, corporate and other social events are taking place no matter what season it is. As a professional entertainment company, Breezin' is all about throwing an unforgettable event, but they've come much farther than the neon lights and DJs since the release of their first podcast episode in January 2019.
Breezin' Entertainment launched a spin-off podcast series called Breezin' Chats after the release of their second volume of Breezin' Magazine the Entrepreneurial Edition. It was a way to connect with and share the stories of the entrepreneurs and young business professionals that were finalists in the 40 Under 40 awards. Breezin' Chats is a wedding, corporate and social entertainment podcast channel that offers next-level entertainment and business news to its listeners. Hosted by Cindy Dervech and her ambassadors of fun, they talk about the industry and even house a few special guests.
In less than a year, Breezin' Chats has already released 10 extraordinary episodes featuring guests, like Debbie Lundberg of Presenting Powerfully, Anna Coats of Marry Me Tampa Bay and Kelly Flannery from the South Tampa Chamber of Commerce, who are highly acclaimed in the business and entertainment industry.
From self-made entrepreneurs to motivational speakers to wedding bloggers, Cindy and her ambassadors of fun are always bringing in a guest with an interesting story to tell. The topics discussed are not only about the tips and advice from entertainment and business professionals but also about overcoming life's challenges, what it takes to be an entrepreneur, choosing career paths, and much more.
One of the guests featured was founder and CEO of Tampa-based company Presenting Powerfully, Debbie Lundberg (S1 E5), who had this to say: "What a thrill to be included in a Breezin' Chats. The experience was one of fun and laughter, reflection and contribution. Clearly, Cindy and Michael did their homework, and they wanted the best for their listeners, and for me as a guest. Much like their high standards for their events, their standard for the podcast is nothing but impressive. Thank you for the opportunity."
Breezin' Chats is not stopping at 10 episodes. The Tampa event entertainment agency hopes to house more guests outside of the space and introduce new and upcoming attractions coming to the Tampa Bay area, for example, Danny Cooper, senior manager of marketing for Tampa International Airport, and Santiago Corrada, president and chief executive officer of Visit Tampa Bay. Interested in learning more? Breezin' Chats is now streaming on all major platforms: iTunes, Google Play, Spotify and YouTube. Download and stream favorite episodes today or listen by visiting https://breezin.com/podcast/.
And stay tuned for the next issue of Breezin' Magazine Volume 3, coming soon this fall. Opportunities to be potentially included in the next volume of Breezin' Magazine are encouraged. Submit all experiences or industry stories at https://breezin.com/magazine.
For media or press inquiries, please contact media relations liaison Claudia Tran at claudia@ibossdigital.com.
About Breezin' Entertainment & Productions
Breezin' Entertainment & Productions is a wedding, corporate and social entertainment specialist that offers unparalleled entertainment services to its clients. Breezin' Entertainment's mission is to create experiences through entertainment. As ambassadors of fun, the team at Breezin' Entertainment aims to provide a unique level of customer service to ensure that clients are left completely satisfied. Once a client books with Breezin' Entertainment & Productions, the company will handle the rest.
Founded in 1988 by Cindy Dervech, Breezin' Entertainment & Productions has been a top-tier entertainment provider in the Tampa Bay area for almost three decades. Specializing in weddings, corporate events and social functions, Breezin' tailors their entertainment services to the occasion.
As a licensed, bonded and insured business [License #TA-000378], Breezin' Entertainment is a company founded on transparency, communication and trust that aims to provide the client with premier customer service that cannot be found elsewhere.
Breezin' Entertainment provides fast, detailed, organized and reliable entertainment that clients can count on. Book that next event today by calling (813) 701-3523 or by visiting https://www.breezin.com.
Source: Breezin' Entertainment
Related Media
Tags
Additional Links