Breakthrough CRISPR/Cas9 Rat Model Technology
Announced by ingenious targeting laboratory
Press Release
-
updated: Oct 17, 2017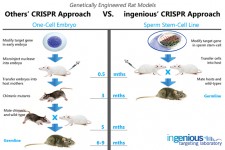 RONKONKOMA, N.Y., October 17, 2017 (Newswire.com) - ingenious targeting laboratory is excited to announce the addition of custom gene-edited rat models via an exciting breakthrough technology. Our unique CRISPR/Cas9 technology utilizing spermatogonial stem cells streamlines the production of rat models with unparalleled speed and accuracy, establishing germline-confirmed rat lines 50 percent faster than other CRISPR technologies allow. This robust system provides a cost-effective means to generate models with enormous predictive power that will shape development of better therapies. Click for more information on how our CRISPR Rat model technology works.
Dr. Kent Hamra, UT Southwestern Medical Center, commented, "This unique technology takes gene editing one step further, alleviating issues of consistency, predictability and mosaicism which are common when using traditional CRISPR approaches."
Mr. Paul Sheiffele, President of ingenious targeting laboratory, stated, "Adding the generation of rat models with this proprietary technology undoubtedly positions ingenious to better provide more options to our current, past and new clients. We believe that our clients will be very excited about the robustness of this technology and quality of the rat models generated."
About ingenious targeting laboratory
For nearly two decades, ingenious has been helping investigators worldwide by developing rodent models customized specifically to their needs. The result: over 1,700 individual gene-targeted models have been generated and hundreds of journal articles have been published citing ingenious' unique designs. Since our founding in 1998, the emphasis has always been on delivering the highest quality product by utilizing cutting-edge technology and personalized service. We guarantee the delivery of your model, not just your money back.
For more information, please visit https://www.genetargeting.com/crispr-rat-models
Or call 631-468-8530, email Inquiry@genetargeting.com.
Media Contact: 
Lindsey Hoffman
Phone: 631.468.8530
Email: Lhoffman@genetargeting.com
Source: ingenious targeting laboratory
Share:
---
Categories: Pharmaceuticals and Biotech, Cardiology Heart Disease, Genetics
Tags: animal models, cardiology, CRISPR knockout, crispr mice, CRISPR rat, CRISPR/Cas9 technology, custom rat models, neuroscience, rat models, sfn, transgenic models
---