Breakout EDU Announces Adam Bellow as CEO and Shares Big Plans for the ISTE Conference in Denver
Press Release
-
Jun 22, 2016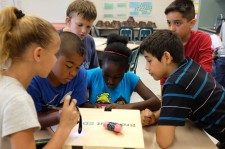 SAN FRANCISCO, June 22, 2016 (Newswire.com) - Breakout EDU, the immersive learning platform, has selected Adam Bellow to scale up its operations. Prior to joining the Breakout EDU team, Bellow founded the educational tools eduTecher, eduClipper, WeLearnedIt, and eduGames. Most recently, he served as a Presidential Innovation Fellow for the White House. Bellow has written books on educational technology and is a sought out speaker on the subject.
"I have dedicated my working life to creating educational opportunities to empower the teachers and learners to reach their full potential. Breakout EDU is directly aligned with that goal, through its belief that we need to get students out of rows doing worksheets for them to create meaningful learning," said Bellow. "Breakout EDU is incredibly refreshing and has offered me renewed hope that my own young children can have learning experiences that capture so many of the elements of education that are often only buzzed about in the education space."
In a Breakout EDU game learners solve a series of puzzles in order to open a locked box. Each game focuses on teaching critical thinking, teamwork, and complex problem-solving. Breakout EDU is quickly becoming a staple in a growing number of classrooms and schools around the world. Bellow and team have extensive plans to continue building and expanding the offerings of education-focused learning activities that reimagine what's possible in today's learning environment.
In addition to a new CEO, Breakout EDU will have a new offering at the International Society for Technology in Education Conference in Denver, CO, along with the Breakout EDU Bus, a custom school bus that has been converted to allow players to experience a new immersive Breakout EDU game, "Dr. Bore and the Quest for Hope", designed in conjunction with BirdBrain Science.
"I cannot think of anyone better to lead Breakout EDU into its next phase. Bellow is one of the few people that simultaneously has his finger on the pulse of education and possess the skills and experiences to shape its future. We couldn't be more excited to have him join our team, and help us prove to the world that we can do things differently." said James Sanders, Breakout EDU Founder.
About Breakout EDU
Breakout EDU creates ultra-engaging learning games for people of all ages. Breakout EDU games teach teamwork, problem solving, critical thinking and troubleshooting by presenting participants with challenges that ignite their natural drive to problem-solve. All games are designed to operate on the Breakout EDU platform, allowing teachers worldwide bring immersive gaming into their schools.
Started in the Spring of 2015 by James Sanders and Mark Hammons, Breakout EDU has been experienced by more than half a million players. With more than 200 games available, Breakout EDU is a platform accessible to all grade levels and subject areas.
Source: Breakout EDU
Share:
---
Categories: Educational News, Educational Technology, Education
Tags: breakout, breakout edu, edtech, education, education technology, escape room, games, iste, iste16, pd, professional development
---