Break the Love Partners With Lilly Pulitzer for Charitable Giving for Women's History Month
Press Release
•
Feb 13, 2023
Partnership features the debut of the Lilly Pulitzer Women's Month Collection and activations that provide further access to sports for girls & women. Proceeds from the sales through Break the Love will benefit WTA Charities.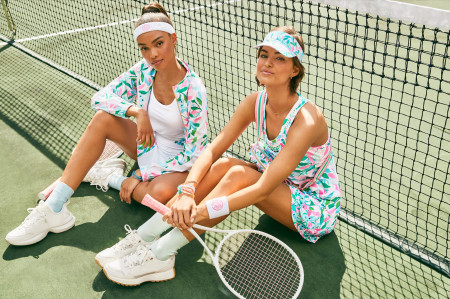 NEW YORK, February 13, 2023 (Newswire.com) - Break the Love, the next-gen social sports app for racquet sports, is partnering with Lilly Pulitzer to give Break the Love users exclusive first-look access to the new Lilly Pulitzer Women's Month Collection. The capsule collection will be available on the Break the Love online platform starting Monday, Feb. 13, 2023. It will also be available through Lilly Pulitzer online starting March 1, 2023. To celebrate Women's History Month, Lilly Pulitzer will make donations totaling $50,000 to WTA Charities. In addition, proceeds from the collection's sales on Break the Love will also be donated to WTA Charities.
In honor of Women's History Month (March), the Women's Month Collection will introduce Holding Court, a new Lilly Pulitzer Print with Purpose. Celebrating 50 trailblazing years of the Women's Tennis Association, this print will support WTA Charities in their work to empower girls and women.
"We are excited to partner with Lilly Pulitzer to enable our community to give back through their Women's Month collection to WTA Charities and support their mission to empower girls and women to access sports, community, and education," said Trisha Goyal, Founder of Break the Love.
The partnership will include several special events, starting with a panel and community tennis rally in Indian Wells during the BNP Paribas Open on March 5, 2023, at La Quinta Resort and Club. This event will feature WTA President Micky Lawler and WTA players spanning the history of professional women's tennis, including Original 9 member and Tennis Hall of Famer Rosie Casals, former Top 20 player Peanut Harper and a current WTA player.
Break the Love will also return to Miami this year, where the partnership will include a women's rally and the opportunity to shop the collection with Lilly Pulitzer on March 26, 2023, in Key Biscayne.
For the first time, Break the Love will expand to the South Carolina market, hosting events with Lilly Pulitzer on April 1, 2023.
"We're proud to celebrate the 50th anniversary of the WTA with a partnership that honors their empowerment of girls and women. Our Holding Court Print with Purpose was designed so that everyone, from casual players to pros, can support WTA Charities by hitting the court in style and with confidence. We're thrilled to shine a spotlight on their work as we launch this collection and to team up with the WTA and Break the Love for special events throughout Women's History Month," said Mira Fain, EVP of Design and Development for Lilly Pulitzer.
For more information, visit https://www.breakthelove.com/clubs/lillypulitzer.
Fans of the WTA and its charitable efforts can learn more by visiting www.wtacharities.wtatennis.com.
About Break the Love :
Break the Love was founded in 2019 and has since grown into one of the most comprehensive online resources and communities for discovering and booking group-based tennis & racquet sports activities to learn, train, or compete. Break the Love is powered by passionate organizers, pros, and athletes. Visit www.breakthelove.com.
About Lilly Pulitzer:
In 1959-ish, Lilly Pulitzer set out to create her own happiness, opening a juice stand in Palm Beach. In need of an everyday uniform, she asked her dressmaker for something to camouflage splashes of citrus juice. The result? A comfortable, sleeveless shift dress made of colorful printed cotton. Since those early days, Lilly designs have been beloved for their casual glamour, vibrant optimism, and endlessly joyful spirit. Lilly was an original with the confidence to break all the rules, the humility to pull it off, and the vision to make women feel as good as they look. Today, her spirit is reflected in the brand's imaginative prints and lively colors, which inspire everyone to shine bright and stand out. The Lilly Pulitzer mission is to inspire confidence and optimism, inviting everyone to shine bright and stand out. www.lillypulitzer.com
About WTA Charities:
WTA Charities is the WTA's global philanthropic organization dedicated to making a positive impact across the globe. Our mission is to empower girls and women to live fully and support WTA communities worldwide through initiatives promoting equality, education, leadership, and health and wellness.
Media Contact:
Jennifer Buonantony
jennifer@presspassla.com
323-496-1976
Source: Break The Love