Brain Balance of Plainview Has Earned Board Certified Cognitive Center Designation
Press Release
•
updated: Feb 19, 2020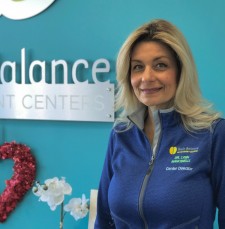 PLAINVIEW, N.Y., February 19, 2020 (Newswire.com) - Brain Balance Achievement Center of Plainview is now a Board Certified Cognitive Center (BCCC), designated by the International Board of Credentialing and Continuing Education Standards (IBCCES).
The Plainview center team has shown their dedication to providing the best possible service to their students by completing an IBCCES training and certification program that focuses on working with individuals with a variety of needs, such as anxiety, dyslexia, autism and ADHD.
"Our team at Brain Balance of Plainview is proud to have achieved this renowned certification. It is our mission to help families and children address the root cause of their struggles and challenges so they can live life to their fullest potential. The advanced training of the IBCCES certification gives us the opportunity to provide the most exceptional services and outcomes for the children and families we serve," said Executive Director Lynn Mancinelli.
Brain Balance offers a personalized, drug-free program that provides answers to social, emotional, behavioral and academic development. Brain Balance was founded in 2007 and currently has more than 100 centers. Brain Balance employs a personalized and integrative approach through sensory engagement, physical development, academics and nutrition.
"Professional training is incredibly important in our industry, and IBCCES has standardized training and certification that is globally recognized," said Dr. Rebecca Jackson, Vice President of Programs and Outcomes at Brain Balance Achievement Centers. "We worked closely with the IBCCES team to develop instruction that meets the needs of our more than 100 centers. This new training program will give our team an even greater understanding as they work with students who face challenges with attention and focus, anxiety, learning, socialization and more."
For almost 20 years, IBCCES has been the industry leader in cognitive disorder training and certification for education, healthcare, and corporate professionals around the globe. IBCCES provides evidence-based training and certification programs created in conjunction with clinical experts and individuals with autism in order to provide professionals serving individuals with cognitive disorders a better understanding of what these disorders are, industry best practices, varied perspectives, and the latest research in these areas.
"The IBCCES training and certification program builds upon the Plainview team's knowledge and experience to help better serve their students, and we're excited to work with such a dedicated team," said Myron Pincomb, IBCCES Board Chairman.
MEDIA CONTACTS:
IBCCES
Meredith Tekin, President
Phone: 904.508.0135 / 904.434.1534
Email: meredith@ibcces.org
Plainview Center
Lynn Mancinelli, Executive Director
Phone: 516-828-2428
Email: plainview@brainbalancecenters.com
Source: IBCCES