BPI SPORTS Launches National TV Campaign for Top Selling Sports Nutritional Supplement
Leading Global Sports Nutrition Company brings national awareness to 1.M.R Vortex™, the company's top selling pre-workout supplement.
Press Release
-
Jan 19, 2016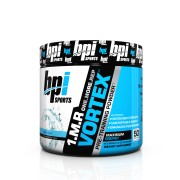 Hollywood, Florida, January 19, 2016 (Newswire.com) - BPI Sports, one of the fastest growing sports nutrition companies worldwide, is kicking off 2016 off with their first ever national television commercial. Fresh off of a successful nationwide billboard campaign, BPI is bringing their pre-workout energy and performance supplement, 1.M.R Vortex™, to homes all across the country, with a new national TV spot, airing on major networks. The "TryVortex.com" integrated media campaign is a creative approach to building the ever-growing reach of BPI's nutritional supplements, that includes television, YouTube, social media and digital strategies.  
Athletes, fitness enthusiasts and bodybuilders have been experiencing the benefit of 1.M.R Vortex™ for years, but there's so many people that live an active lifestyle that can benefit from the energy, focus and performance benefits of this product. Fitness is growing every year and there's so many people out there, from all fitness levels, that should be using this product. This campaign was developed to bring more awareness to this incredible supplement, and help more people achieve their health and fitness goals. 1.M.R Vortex™ is a powerful pre-workout supplement designed to enhance your endurance, and overall performance when you exercise. 1.M.R Vortex™ may also be used for an extra boost of energy to get you through your day when you need it most. Vortex is available in a wide variety of unique and refreshing flavors such as Snow Cone, Sour Watermelon, and Blueberry Lemon Ice, to name a few.
"We feel so confident in the products that we make, and how much people will love them, that we know our only obstacle is getting in front of even more people and allowing them to experience the products for themselves. This is why we chose to give away free trials of 1.M.R Vortex™ as part of this campaign," said James Grage, Co-Founder of BPI Sports. "We know if they try it they will love it."
This national campaign will direct viewers to www.tryvortex.com where they will find exclusive offers to try 1.M.R Vortex™ for free. As part of this platform, BPI Sports is running a "I Tried Vortex" contest, for the duration of the campaign, where people can share their 1.M.R Vortex™ experience by using the hashtag #ITriedVortex. All participants will be automatically entered to win weekly prizes, that include free nutritional supplements and gym apparel. This contest will run across multiple social media platforms such as Instagram, Facebook, and YouTube.
Look for these commercials to begin airing on January 19th across major networks nationwide.
Share:
---
Categories: Sports, Fitness, and Recreation, Exercise and Physical Fitness, Business News
Tags: 1MR Vortex, BPI Sports, sports nutrition, supplements
---