BPG and IQ Group (Australia) Deliver Progressive Customer Experience & CEMMethod™ to Help Businesses Transform
New Global Australian partnership to provide the latest Customer Experience and Process Improvement approaches and techniques across ANZ
Press Release
-
updated: May 31, 2018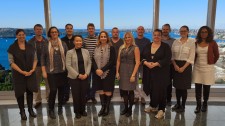 LONDON & MELBOURNE, Australia, May 31, 2018 (Newswire.com) - BPG, the global business network, and IQ Group's training division HIQ Learning Services, a leading provider of consultancy and upskilling, announced a partnership to offer the CEMMethod and its associated approaches across Australia and New Zealand.
The partnership includes HIQ Learning Services instructors providing courses throughout the ANZ region with a series of courses delivering the Certified Process Professional Masters (CPPM) and Accredited Customer Experience Masters (ACXM) qualifications.
Success in today's highly competitive world depends on enabling their employees to have the very latest techniques and tools to deliver Successful Customer Outcomes. Delivering Customer Experience Excellence is now a key differentiator and so establishing a culture that naturally innovates around CX and associated processes to deliver business success through lower costs, improved service and higher revenues (simultaneously) is an enterprise-wide opportunity.
Recognizing this need in ANZ, BPG has teamed up with HIQ Learning Services to bring training, consultancy and mentoring programs that provide these capabilities.
"I'm excited to welcome the partnership and introduce the CEMMethod™ and course offerings in ANZ," said Steve Towers, BPG's CEO and founder. "The BPG has been delivering courses in Australia for more than 18 years and this partnership will ramp up the potential for professionals to extend their skills and transform their organizations across the region."
The partnership was launched this week during the 26th Accredited Customer Experience Management course in Sydney. Cynthia Cheong, Practice Leader, Learning, PM & Change at HIQ Learning Services, said, "HIQ Learning Services is honoured to partner with BPG. Over 15 years of providing consulting and training services for ANZ customers has established us as a most credible resource for those wishing to deliver the advantages from Customer Centricity and Process Transformation."
HIQ Learning Services will be offering the Certified Process Professional Masters (CPPM) and Accredited Customer Experience Masters (ACXM) courses from June onward.
http://www.iqgroup.com.au/customer-experience-management-method-course/

About BPG (BP Group)
The BP Group https://www.bpgroup.org/ (established in 1992) is founded by Steve Towers https://www.stevetowers.com/, a global thought leader in customer-centricity and process excellence. With a network of global partners to deliver coaching, training and consultancy in CEMMethod®, BPG's vision is to make transformations a reality for clients and reap the benefits of improved service, lower costs and higher revenues.

Media contacts:
Eloise Bonner
IQ Group, Level 4, 31 Market Street
Sydney, NSW 2000
T: +61 (0)2 9006 9552
Rachel Smith
BP Group, New Bond House, 124 New Bond Street
London W1S 1DX
T: +44 (0)203 286 4248
F: +44 (0)1234 923004
Source: BP Group
---
Categories: Business to Business
Tags: Australia, BP Group, BPG, Customer Centricity, Customer Experience, Customer Experience Management, CX, IQ Group, Process Transformation, Steve Towers
---