Boxhub Secures $12.4M Series A to Modernize Global Shipping Container Trade
Press Release
•
updated: Jul 6, 2023
The Online Marketplace Will Expand Beyond the U.S., Advance Supply Chain Automation in the Container Industry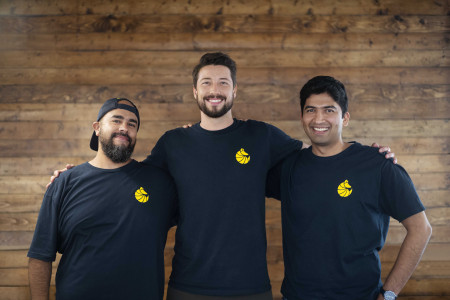 TORONTO & NEW YORK, June 28, 2023 (Newswire.com) - Boxhub, the largest online marketplace for shipping containers in the United States, has successfully raised a $12.4 million Series A on its mission to revolutionize how shipping containers are traded and used worldwide. The funds will fuel Boxhub's international expansion and industry-shaping product development.
The investment round was led by early-stage venture fund AlleyCorp, with participation from Solasta Ventures, Interplay, FJ Labs, and Hum Capital. Boxhub has welcomed AlleyCorp Partner Susannah Shipton to its Board of Directors.
"The global shipping industry relies on antiquated systems ripe for technological advancement. The heavily manual processes underpinning shipping container trade are no exception," said Boxhub co-founder and CEO Maximilian Birner. "Boxhub is already the largest online container marketplace in the U.S., and we're thrilled to partner with top-tier venture capital firms to continue our exciting period of hyper-growth."
Boxhub was founded in 2017 as a digital platform for B2C and B2B shipping container transactions, radically modernizing an industry reliant on ledgers, emails, spreadsheets, and phone calls to transact. The company uses automation and a localized logistics network to introduce shipping containers retired from international trade to a booming secondary market. This approach streamlines a complex, multi-stakeholder fulfillment system and eliminates the need for shipping lines and leasing companies to undertake "empty repositioning," a process estimated to cost the shipping industry $20 billion annually.
"Boxhub is one of those special marketplaces with myriad different categories of buyers and sellers, all of whom were deeply underserved by the incumbent and outdated process of doing business in the global container trade," said Susannah Shipton, Partner at AlleyCorp. "Boxhub's transparent, efficient marketplace not only transforms the dynamics of the existing market, but also substantially broadens access to container supply, for which there is serious and growing demand."
Despite the challenges posed by COVID-19 and global container shortages, Boxhub has experienced exponential growth over the last few years. The company has established a diverse portfolio of enterprise container buyers ranging from retailers and construction firms with portable storage needs to non-profits creating children's libraries and emergency healthcare clinics.
Beyond large-scale businesses, Boxhub has become fiercely popular with consumers undertaking container-based upcycling initiatives such as tiny houses, vertical farms, home offices, workshops, and swimming pools. The company maintains a 4.7/5-star ("Excellent") average Trustpilot rating.
In 2022, Boxhub raised a $2.4 million seed round led by Delivery Hero founder and CEO Niklas Östberg, with participation from Unity Technologies founder David Helgason; Uber founding engineer Conrad Whelan; and Innoport, the VC arm of maritime leader Schulte Group, among others.
About Boxhub
Boxhub is an e-commerce and logistics platform enabling the frictionless purchase, sale, and delivery of shipping containers. Founded in 2017, the online marketplace has become a trusted partner for thousands of container buyers across the United States. By extending the life of containers and reducing the need for empty repositioning, Boxhub aims to build a more sustainable world — one container at a time. For more information, visit boxhub.com.
Source: Boxhub