Botched: Is a Tummy Tuck Worth the Risk?
For the first time, 18 months after a surgery that could have ended her life, Quanna shares her story with Dr. Baker of Embodied State of Mind in the aim of helping others considering Abdominoplasty.
Press Release
-
updated: Jan 17, 2017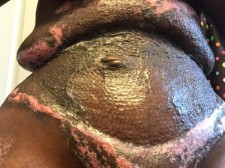 New York, NY, January 17, 2017 (Newswire.com) - Surveys indicate that 87% of US women1, which equates to a staggering 109 million women2, are unhappy with their body. Each year, 1.4 million undergo invasive cosmetic surgery3 in an attempt to correct perceived flaws. Of these, 128,000 opt for abdominoplasty3 (also known as tummy tucks); a procedure that comes with higher risk of major complications4 than any other cosmetic plastic surgery procedures. Eighteen months after surgery, Quanna shares her story to inspire and help others who may be considering abdominoplasty.
From the outside, Quanna is a bubbly warm person that oozes confidence and beauty. You would never know she previously had a tummy tuck that resulted in severe scarring. The scarring was caused by an infection that developed post-op that resulted in the skin on her abdomen separating from her body. Since her initial surgery, Quanna has spent over 50 days in hospital due to multiple complications and undergone many more procedures – all the while, the surgeon who had performed her abdominoplasty had 'left town' and refused to return multiple calls from the hospital staff. "He just… left me for dead."
Despite her terrifying experience that could have ended her life, Quanna lives her life to the fullest and encourages others to do the same. Proud mother of 2 children, she is currently 5-months pregnant with her third child.
In her interview with Dr. Lucie Baker, founder of Embodied State of Mind, Quanna shares details of her life over the past 18 months as she suffered horrific pain and complications post-surgery. She also talks of her experience being pregnant with a botched tummy tuck as well as the challenges she still faces with reconstructive surgery in the future. Her aim is not to tell others not to undergo surgery but to raise their awareness of the risks and ask them to consider: "Is it really worth it?"
About Embodied State of Mind: Embodied State of Mind, LLC (http://embodiedstateofmind.com/) is a New York based Start-up, which aims to heal men and women's relationship with their body and lead a happier, healthier and more fulfilling life. Lucie Baker PhD is global consultant on body image development.
Source: Embodied State of Mind
Share:
---
Categories: Beauty and Personal Care, Pregnancy, Cosmetic and Reconstructive Surgery
Tags: body confidence, body image, botched, cosmetic surgery, pregnant, tummy tuck
---