Boston Teen Founders Win 2nd Place at Global Youth Entrepreneurship Competition
Press Release
•
updated: Jul 2, 2021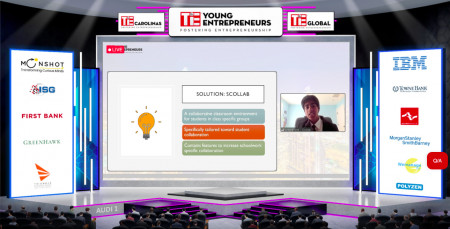 BOSTON, July 2, 2021 (Newswire.com) - Teens from TYE Boston's Entrepreneurship Academy, a 15+ year program dedicated to fostering the next generation of leaders through the transformative experience of building a startup, placed second in the TiE Young Entrepreneur's (TYE) Global Pitch Competition. Five high school students from Massachusetts pitched their startup Scollab, an online interactive classroom designed to improve collaboration between students, at the TYE Global Pitch Competition event on June 18-19.
Scollab's co-founders Rithvik, Aagam, Viri, Sidarth, and Raj, presented their startup in front of 3,500 attendees to a panel of prestigious judges. The team was competing against the top 20 teams from around the world, representing chapters from the United States, India, Canada, and Australia. In addition to placing second overall, the team also received the Social Impact in Education Award and Best Business Model in their track.
Scollab prepared over the past nine months by participating in TYE Boston's Entrepreneurship Academy, which pairs industry experts with high school students to teach them the skills needed to build a successful business.
"As a part of the TYE program this past year, we tasked ourselves to solve a problem that affects us (as high schoolers) and our peers daily. Outside of school, collaborating with peers and educators is an issue that most students struggle with, one that studies show can hinder enthusiasm, engagement, and learning. Thus, we set out to create a solution, and Scollab found its inception," shared the Scollab team in a statement.
Sidarth, Chief Information Officer of Scollab, said, "Throughout this program, my team and I were able to develop new skills from communicating with many experts and school administrators in the EdTech market to building our presentation skills while creating pitches..." Rithvik, Chief Executive Officer of Scollab, expanded. "The program brought in fantastic guest speakers from all fields, some of whom ended up becoming key mentors on our journey."
A few of Scollab's team of mentors included John Gamba, Entrepreneur in Residence, Penn Graduate School of Education; Joanna Smith, CEO AllHere; Sugandha Talwelkar, Technical Product Manager at Utilidata; Susan Erickson, Ed.D, K-5 Science and Social Studies Curriculum Specialist, Weston Public Schools and Arun Nijhawan, Founder of Remedy Health.
When asked about his experience working with the Scollab team, Mr. Gamba shared, "As actual students who stared down unique challenges associated with the pandemic, Team Scollab was able to articulate a vision, mission, and solution that has real-world impact and sustainable value in today's ever-changing K12 landscape."
Scollab's young co-founders learned more than just entrepreneurship skills from their experience. Viri, Chief Operating Officer for Scollab, said "... I think that from this program we've gained so much experience, especially when it comes to gaining the courage to talk to new people." And Aagam, Chief Marketing Officer for Scollab, added, "We learned how to work as a team, write and present pitches of great magnitude, and how to improvise with our given circumstances, all remotely through the crossfires of a pandemic."
When asked what the future holds for the teen founders, the team shared, "While the future of Scollab is uncertain, as we are all full-time students, our belief in the platform and company are unwavering as ever. We learned to build this business from its base, thanks to the TYE Program." Raj, Chief Financial Officer of Scollab, added, "I simply cannot put into words the immense pride and thankfulness that I feel for each one of my team members and mentors, as they truly showed not only how I could bring out the best in myself but also how I could put that positivity towards making the world a better place."
Do you know a high school student who dreams of changing the world with their innovative solution? Applications for the 2021-2022 TYE Entrepreneurship Academy are now open. The deadline to apply is August 15, and there is limited space available. Learn more by visiting www.tye-boston.org/entrepreneur-academy
For more information, contact:
Katie Quigley Mellor, TYE Boston Program Director | TiE Boston Foundation, Inc.
Source: TiE Boston Foundation, Inc's TYE Entrepreneurship Academy