Boop - a Virtual Meeting Remote, Launching on Kickstarter on 21st March 2023
Press Release
•
Mar 20, 2023
BOOP will launch on Kickstarter on Tuesday, 21st March, with an early bird reward price starting at $44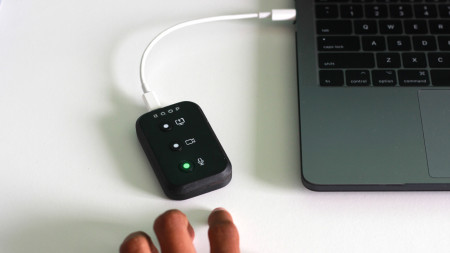 LINCOLN, Neb., March 20, 2023 (Newswire.com) - Everyone on a Zoom call has heard or said, "You're on mute!" at least once. Now that's not such a big problem. But what about all the times when someone blurted out something they weren't supposed when they thought they were on mute? Or did something without knowing their video was on?
Everybody has seen the hilarious online meeting blooper compilations and everyone loves watching bloopers until they become one. A device that can help solve these problems is called Boop. Boop is a pocket-sized remote to mute, screen share, and control the video in a virtual meeting. It has 3 simple buttons that:
Turn on/off the mic
Turn on/off the camera
Turn on/off the screen sharing
Why is it better than the on-screen toggles? The Boop team has done a complete case study and extensive research that details how this device solves all the problems people face with traditional on-screen toggles. Check it out here.
Benefits of using Boop
Works even when the meeting app is in the background
Multitaskers or collaborators in an ongoing meeting need not constantly switch back & forth between screens anymore.
Always know the mic & video status
LED indicators enable constant visibility of system status. No more checking/guessing if the mute toggle is on/off.
Tactile controls
Accessible buttons to reach easily without fumbling.
Works with any mic & camera
Use an in-built mic and camera, or an external one, Boop works with all.
Synced with the meeting app
Boop's LED status indicator works both ways - whether using Boop or on-screen meeting controls
Compatibility
The device can be used with Zoom, Google Meet, Microsoft Teams, Cisco Webex, and more platforms will be added through software updates.
Who is Boop for?
People attending multiple virtual meetings regularly
People who keep saying "You're on mute" or "Oops, I was on mute"
People who face difficulties with the UI of different virtual meeting tools
People with a heavy load of collaborative digital work
People who get anxious every time they don't know if their mic is on or not during a virtual meeting
Boop will be going live on Kickstarter on the 21st of March 2023. To help fund this project and get a Boop, check out this link.
Source: Boop
Related Files