BookOutdoors and Dónde Join Forces to Offer Unforgettable Outdoor Travel Experiences
Press Release
•
Jul 6, 2023
Through Dónde's innovative platform, employees at participating companies can now access a wide selection of outdoor accommodations from BookOutdoors.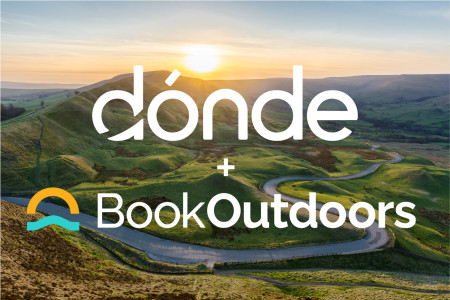 DENVER, July 6, 2023 (Newswire.com) - BookOutdoors, the fastest-growing online destination for booking outdoor travel, is pleased to announce its strategic partnership with Dónde, the innovative employee travel benefits platform. This collaboration brings together two industry leaders to revolutionize the way companies support and reward their employees' PTO travel, providing unforgettable outdoor travel experiences.
Through this strategic partnership, BookOutdoors will offer its extensive range of outdoor accommodations, including campgrounds, RV resorts, cabins, and glamping resorts, into the Dónde platform, expanding the travel options available to employees. With access to BookOutdoors' diverse inventory, employees can choose from a wide selection of desirable destinations across the country.
"We are thrilled to partner with Dónde to bring outdoor accommodations to their innovative platform," said Brian Nolan, co-founder and CEO of BookOutdoors. "Research shows that time spent outdoors boosts productivity and creativity, reduces stress, and improves mental health. By collaborating with Dónde, we can encourage the use of PTO for outdoor travel and reach a broader audience of employees seeking to unwind and recharge under the sun and stars."
Dónde's co-founder and CEO, Rilee Buttars, shared her excitement about the partnership, stating, "We are excited to add BookOutdoors to our growing network of travel partners. The addition of their outdoor accommodations enhances the diversity and flexibility of travel options available to employees. We believe that time spent outdoors has tremendous benefits for individuals, and this partnership enables us to provide even more memorable vacation experiences."
The collaboration between BookOutdoors and Dónde represents a significant step forward in the realm of employee travel benefits, allowing companies to enrich their employees' lives and well-being by offering unique outdoor travel opportunities. By aligning their visions and expertise, BookOutdoors and Dónde are poised to create a new standard for PTO travel experiences.
About BookOutdoors
BookOutdoors is a rapidly growing travel booking website that focuses exclusively on outdoor hospitality. With BookOutdoors, guests can effortlessly reserve any type of outdoor accommodation they desire, such as RV parks, glamping resorts, cabins, tent camping, and marinas, without booking or membership fees. The founders of BookOutdoors are renowned leaders in outdoor hospitality, together with successful tech entrepreneurs, and are backed by leading VC investors and executives from the largest travel and hospitality businesses. For more information or to list your property, visit bookoutdoors.com.
About Dónde
Dónde is the time-off platform that reignites company culture by turning employers into the champions of unforgettable vacations, unplugged time away, and work-life balance. Dónde helps organizations attract and retain top talent by contributing to their employees' Dónde vacation spending accounts. Employees can use the Dónde platform to discover, plan, and pay for their next adventure. Learn more at www.godonde.com.
Source: BookOutdoors