BookJane's Technology Automates the Health Care Industry
Press Release
-
updated: Aug 14, 2019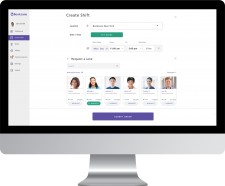 TORONTO, August 14, 2019 (Newswire.com) - BookJane Inc. ("BookJane") drives innovation across the healthcare industry by advancing automation in shift fulfillment processes for healthcare organizations of all sizes. BookJane's technology platform, BookJane J360, allows customers to quickly and efficiently create and fill a shift online in just minutes. The technology replaces existing call-out shift fulfillment procedures which saw schedulers spend up to eight hours each day on the phone with agencies or manually calling an internal call-list to fill those empty shifts.
"Today, we all go online to book our vacations, we all pay our bills online and we go online to shop. BookJane is leading the charge in extending the automation process by allowing healthcare providers to go online to book and fill their shifts," said Curtis Khan, CEO and founder of BookJane.
Since BookJane's booking platform is online, customers have access to the platform 24/7 and can book shifts on any computer or smartphone. This is a level of convenience and simplicity currently unmatched in the healthcare space. ​
BookJane offers its customers different options for how they want to fulfill their shifts. BookJane Essentials customers have access to BookJane's 24/7 online booking platform which allows shifts to be filled by BookJane's network of highly professional workers who accept jobs as they wish straight from their smartphones. BookJane Premium customers have access to the booking platform but can use their own part-time and casual staff to fill empty shifts across their organization. BookJane Premium allows customers with multiple locations/care centers to better utilize their own staff and ensure a consistent level of care that can't be matched by any employment agency.
"BookJane's gig-economy-style platform and network are driving real change across the health care industry. For a company that's only been in operation since 2016 to have achieved this level of transformative impact in an industry which is slow to adopt change is truly remarkable," Khan further iterated.
About BookJane Inc.
BookJane is a visionary company that through the use of its technologies is addressing the inefficiencies in finding certified services professionals when needed. Our platform, BookJane J360, is being deployed as an enterprise platform for business customers' internal use throughout the United States and Canada.
For more information on BookJane, please visit www.bookjane.com.
Media Contact:
Chris Palazzo​
Phone: (647) 863-7814
Email: chris@bookjane.com
Web: www.bookjane.com
Source: BookJane
Share:
---
Categories: Healthcare Technology
Tags: BookJane, Enterprise Platform, Mobile App, On Demand Health Care
---