Bone Science Launches Its New Product Dr's Grow UP in 2020
Bone Science is excited to announce the launch of its dietary supplement Dr's Grow UP which will be available from 2020 in the USA and South Korea. Further markets will follow in a second launch phase. Bone Science has the goal to provide 100% natural quality-products that can be beneficial for height growth and overall health.
Press Release
-
updated: Dec 10, 2019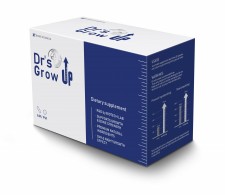 RIDGEFIELD, N.J., December 10, 2019 (Newswire.com) - The nutrition of adolescents forms the basis for positive physical and mental development. However, many teenagers struggle to reach their full height growth potential because they lack essential vitamins, minerals, and proteins. The US brand Bone Science is now proud to present their new product Dr's Grow UP. Developed in collaboration with medical experts in bone research, the natural dietary supplement will be available from the beginning of 2020. It consists of essential minerals, vitamins, proteins, and other ingredients that are crucial for height growth.
The teenage years and especially puberty are the best time to grow taller. Besides genes, environmental factors such as a balanced diet, sufficient sleep, and physical activity play an important role in growth development. A healthy lifestyle during the teenage years is crucial for adult height. Young people should also refrain from cigarettes, excessive alcohol, steroid or drug use, as it might inhibit their growth process.
The nutrients included in Dr's Grow UP were selected in response to those findings. Teenagers have a busy lifestyle and constantly face physical and cognitive challenges. The 22 premium ingredients are split up into "Dr's Grow UP AM" and "Dr's Grow UP PM" to ensure optimal nutrition throughout the day. GABA, Colostrum, the amino acids L-Arginine, L-Ornithine, and vitamins B6, B12, C, D, and E are among the highly valuable ingredients. Dr's Grow UP will initially be available in the USA and South Korea from 2020. Bone Science plans to extend the distribution to Europe and further Asian markets in the future. More information is available at www.thebonescience.com
About Bone Science:
Bone Science is a trademark of the US company Redmars America Co, Ltd. The company develops, manufactures, and distributes dietary supplements. The goal of Bone Science is to provide 100% natural and quality products that contribute to the health of its consumers. All Bone Science products are manufactured in the USA in an FDA approved facility that complies with the current Good Manufacturing Process (cGMP). More on the Bone Science Website www.thebonescience.com or on the Blog https://bonescience.blog.
Source: Redmars America
Share:
---
Categories: Medicinal Foods
Tags: bone research, bone science, doctors grow up, dr's grow up, dr's grow up launch, grow taller, growth development, height growth, natural growth
---