Bombay Sour Teams Up With Oscar Winner Simon Egan to Launch World's First Crowdfunded Mobile Entertainment Platform
Press Release
-
updated: Oct 15, 2018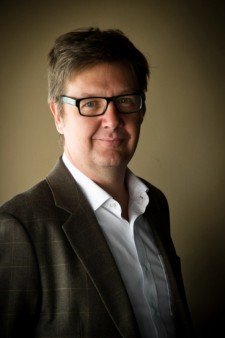 Unique subscription-based crowdfunding model turns subscribers into co-producers
Users can channel their subscription to content they want to fund and watch
Blockchain gives users chance to own a stake in the next blockbuster series
CANNES, France, October 15, 2018 (Newswire.com) - Blockchain-based entertainment startup Bombay Sour today announces the strengthening of its senior management team with Oscar-winning "The King's Speech" Producer Simon Egan joining the company's advisory board, alongside Social Chain CFO Christian Grobel.
As it ramps up its production operations into Q4 this year, the London- and LA-based content studio joins the likes of Liz Murdoch's Vertical Networks and Jeffrey Katzenberg's NewTV in focusing primarily on mobile-first, premium short-form entertainment. Bombay Sour aims to empower the best creative talent, including emerging U.K. filmmakers, to produce critically acclaimed shorts, pilots and series across genres including sci-fi, drama, comedy and documentaries that appeal to Generation Z, Millennials and Generation X users.
The company also launched a Beta version of its \\Zest. product at MIPCOM in Cannes – a video streaming platform which uses blockchain to enable subscribers to buy shares in upcoming pilot content before it breaks into TV, SVoD or film. Users will have the chance to pick and own a stake in the next blockbuster series. Bombay Sour has also disclosed plans to distribute its content across a plethora of OTT devices including Amazon Fire TV, Apple TV and ROKU starting Q1 2019.
With partnerships already penned with indie producers and publishers like Little Dot Studios (All3Media) as well as Jungle Creations (U.K.'s leading social media publisher), the company  boasts a content slate of over 200 award-winning TV pilots and short films from directors such as Eric Kissack (The Dictator), Phil Sheerin (Winner, Raindance 2015), Ben Petrie (Winner, Raindance 2016), Tal Amiran (Winner, London Short Film Festival) and Brendan Cleaves (Hollywood Blacklist for ROGER). In addition, Bombay Sour has also announced its first slate of crowdfunding projects.
Bombay Sour founder and CEO Piotr Kocel said: "\\Zest. is like a crowdfunded Netflix. We believe that premium entertainment has a decentralized future where content is democratically co-created with audiences and value is fairly distributed through private smart contracts. We also believe that offering SVoD on mobile is the optimum way to deliver this future, leveraging stable and recurring revenue streams on the platform of choice for 18-35 year-olds."
Simon Egan said: "Bombay Sour is building something unique and exciting. They're already working with some of the biggest names in content and distribution. We're delighted to lend our names and expertise to such a promising endeavour."
Bombay Sour will be showcasing its \\Zest. platform at the Carlton InterContinental Hotel, Cannes, on Tuesday, Oct. 15.
Bombay Sour was set up in May 2018, and is run by founder and CEO Piotr Kocel (formerly VP of corporate development, BBTV / RTL Group), Chief Content Officer Steve Carey (co-founder, Diagonal View, and managing director of Luxury, Vice Media UK) and Chief Technology Officer Peter Hall (entrepreneur, advisor to startups on technology strategy and smart contracts, and formerly platform architect at Algomi).
About Bombay Sour
Bombay Sour (https://www.bombaysour.com) is building a mobile entertainment platform for Gen Z and Millennials called \\Zest. It uses the blockchain to share IP rights with its subscribers, engaging its audience to become co-producers of curated premium content. The \\Zest. platform will democratize content creation and ownership by enabling subscribers to choose and actively support the content they feel will be the next breakout hit. When a user's support gets a show made, they will own a stake in the form of an irrefutable smart contract built on the Ethereum Blockchain. Users can earn additional tradable tokens by promoting the platform and its content on social media and as successful content is licensed to TV or film. Its high-end content is further personalized through context-based recommendations using deep learning algorithms.
The company is already working on feature projects with over 50 of the world's most prestigious directors and is in discussions with leading broadcasters and studios. The launch of the service is scheduled for the second quarter of 2019. \\Zest. will be initially rolled out in the U.S., Great Britain, Australia, New Zealand, Germany, Austria, Switzerland and Poland.
Press and media inquiries:
James Brown
Head of Marketing and PR
P: +1 (323) 319-4770
E: PR@bombaysour.com
Source: Bombay Sour Films LLC
Share:
---
Categories: Arts and Entertainment, Mobile and Smart Phones
Tags: ai, blockchain, entertainment, film, genz, millennials, mobile, oscars, video
---