Bobby Sarnevesht and Julia Hashemieh Discuss Medical Foundation's Latest Fundraising Initiatives
Thanks to events such as its popular charity hotel fashion show, Aryana Health Care Foundation continues to attract support from businesses and individuals both in California and further afield.
Press Release
-
updated: Jun 1, 2018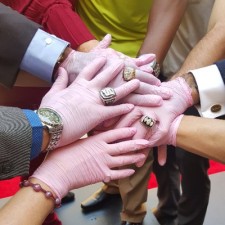 LOS GATOS, Calif., June 1, 2018 (Newswire.com) - Set up by entrepreneur Bobby Sarnevesht, Aryana Health Care Foundation exists to offer high-quality medical care to those on low incomes in and around the Santa Clara, San Jose, Los Altos, Los Gatos, and Burlingame areas. The foundation believes that every individual deserves to receive first-class medical care and attention, administered by qualified doctors and nurses, regardless of their financial situation.
Alongside partners such as Office Depot, Clos LaChance Winery, and Silver Creek Country Club, the foundation's most recent fashion show, held at Valencia, raised much-needed funds for the organization.
"Like all of our events, the fashion show also served to raise the profile of Aryana Health Care Foundation further," explains founder Bobby Sarnevesht. "It was a great success," he adds.
Adding to Sarnevesht's remarks, Aryana Health Care Foundation treasurer and board member Julia Hashemieh goes on to say, "Fundraising events such as our fashion show not only encourage partnerships and sponsorship but also provide much-needed visibility for our organization."
"These events," Hashemieh continues, "are a vital step in creating long-lasting partnerships within our community, and vital to the work we do at Aryana Health Care Foundation."
More recently still, and in an exciting change of pace, Sarnevesht and Hashemieh have partnered with a local supercar dealership. Based in San Jose, RRS Auto Group's luxury showroom will play host to upcoming events held in aid of the foundation.
With an initial event already in the bag, Sarnevesht and Hashemieh oversaw a day of high-octane fundraising held in the plush surroundings of RRS Auto Group's boutique showroom location, which is owned and operated by former technology industry executive Steve Shee.
The event attracted a wide variety of individuals, all keen to support Aryana Health Care Foundation, including a large number of RRS Auto Group's customers.
"The RRS Auto Group staff did a fantastic job of helping to promote the day," Hashemieh recalls. "Many of their regular customers attended and donated funds to our foundation. We cannot express our gratitude enough to Steve Shee, RRS Auto Group, and everyone else involved."
"Once a great business such as RRS Auto Group becomes involved or hosts an event, they become members of our organization's family for life," adds foundation boss Bobby Sarnevesht.
"We've seen partners, such as Steve Shee and RRS Auto Group, host numerous events on our foundation's behalf, raising many thousands of dollars," he adds, wrapping up. "We try to host these events on a regular basis as every single dollar helps."
Aryana Health Care Foundation and RRS Auto Group's next event is to be announced soon. To learn more about the foundation, visit http://aryanahealthcarefoundation.org.
Media Contact:
Web Presence, LLC
Eric Blankenship
786-332-6554
Source: Web Presence, LLC
Share:
---
Categories: Fund Raising
Tags: Bobby Sarnevesht, Bobby Sarnevesht California, Bobby Sarnevesht Los Gatos
---