BLUETTI's Green Holiday Campaign to Celebrate Easter Sustainably
Press Release
•
Apr 5, 2023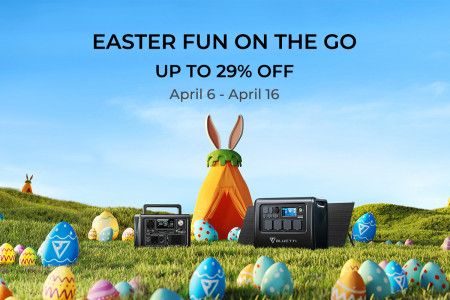 SYDNEY, April 5, 2023 (Newswire.com) - BLUETTI, a leading provider of clean energy storage solutions, has announced its Easter Campaign, which will run from April 6 to April 16. This event allows customers to prepare for their Easter holiday with a range of renewable power backup options. Moreover, its brand-new mobile power AC180 will go on sale on May 4.
To further promote the off-grid experience, BLUETTI will launch a new mid-size model - AC180 in Australia. The AC180 is equipped with a 1,152Wh LFP battery and a 1,800W inverter, which can deliver up to 2,700W of power in Power Lifting mode. Plus, the AC180 supports 500W solar charging and up to 1,440W turbo charging, 0-80% SOC only takes about 45 minutes, plenty of power for garden parties and outdoor picnics.
The sought-after EB200P has 2,048Wh capacity and 2,200W inverter to power most appliances, including fridges, TVs, computers, stereos, coffee machines, air conditioners (8,000 BTU), etc. The built-in durable LiFePO4 battery can ensure 3,500+ life cycles before reaching 80% capacity. The EB200P supports up to 900W solar input, charging to 100% SOC in 3-3.5 hours, and dual charging: AC+Solar (max. 1400W) or dual AC (1000W in total) to halve the recharging time.
There are two flagship products similar to the EB200P, AC200MAX, and AC200P. They come with roughly the same capacity and output power.
The portable EB3A and EB70 make going green more accessible. The EB3A has a 268Wh capacity and 600W output power. The EB70 is more powerful, for 716Wh and 1,000W. With extreme portability and fast charging capability, they are suitable for various outdoor scenarios.
Go solar with the BLUETTI PV120, PV200, PV350 and PV420. They use multi-layered ETFE for higher efficiency and longer life. With a conversion rate of 23.4%, the solar panels can sip the sun's energy at high speed and keep solar generators at full bar.
About BLUETTI
From the very beginning, BLUETTI has tried to stay true to a sustainable future through green energy storage solutions for both indoor and outdoor use while delivering an exceptional eco-friendly experience for our homes and our world. That's why BLUETTI makes its presence in 70+ countries and is trusted by millions of customers across the globe. For more information, please visit BLUETTI online at https://www.bluettipower.com.au/ or follow BLUETTI on:
YouTube: https://www.youtube.com/@BLUETTIOfficial
Facebook: https://www.facebook.com/bluetti.au
Facebook Group: https://www.facebook.com/groups/bluettipower.au
Instagram: https://www.instagram.com/bluetti_australia/
Source: BLUETTI ENERGY PTY LTD