BLUETTI EP600 and AC500 Win Red Dot Design Award 2023
Press Release
•
Apr 5, 2023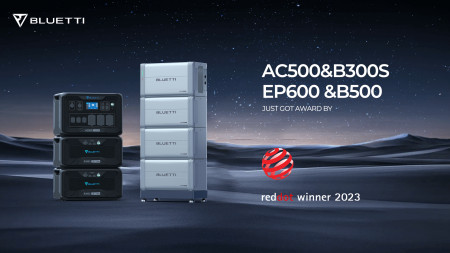 SYDNEY, April 5, 2023 (Newswire.com) - BLUETTI, a leading provider of portable power stations, is proud to announce that its products EP600 and AC500 have won the Red Dot Design Award 2023. The award recognizes the outstanding design of the two products and acknowledges the innovation and excellence of BLUETTI's design team.
The Red Dot Design Award is one of the most renowned design competitions in the world, and it attracts thousands of entries from different countries and industries. The award recognizes products that demonstrate exceptional design, quality, and innovation. Winning the award is a significant achievement for BLUETTI, and it demonstrates the company's commitment to creating products that are not only functional but also aesthetically pleasing.
The EP600&B500 is BLUETTI's latest Energy Storage System (ESS), launched in Europe last November. It's designed for on-grid or off-grid use with easy installation and simple operation. With a modular design and cutting-edge technology, it is the perfect solution to reach power independence in a sustainable way.
The AC500&B300S is a modular power station for home backup or off-grid living. It adopts reliable LiFePo4 batteries that contain no harmful heavy metals and advanced technology to enable fast charging, split phase function, and UPS protection. It features a simple yet aesthetic design, and superior performance, a true marriage of functionality and beauty.
"We are thrilled to have won the Red Dot Design Award 2023," said Jame Ray, spokesperson for BLUETTI. "Our design team has worked tirelessly to create products that not only perform well but also look great. Winning this award is a testament to their hard work and dedication, and we are proud of what we have achieved".
BLUETTI has won this award several times for its innovative and eco-friendly energy products. Innovation, sustainability, and excellence are written in its DNA. The EP600 and AC500 are currently available for purchase on BLUETTI's website, and they come respectively with a 10-year and 4-year warranty.
About BLUETTI
From the very beginning, BLUETTI has tried to stay true to a sustainable future through green energy storage solutions for both indoor and outdoor use while delivering an exceptional eco-friendly experience for our homes and our world. That's why BLUETTI makes its presence in 70+ countries and is trusted by millions of customers across the globe. For more information, please visit BLUETTI website or follow BLUETTI on:
YouTube: https://www.youtube.com/@BLUETTIOfficial
Facebook: https://www.facebook.com/bluetti.au
Instagram: https://www.instagram.com/bluetti_australia/
Source: BLUETTI ENERGY PTY LTD