BLUETTI AC500 Hits the Official Shelves Amid Early 2023 New Year Sale
Press Release
•
Jan 13, 2023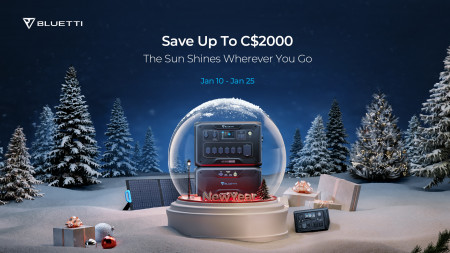 TORONTO, January 13, 2023 (Newswire.com) - BLUETTI, a well-known solar generator brand, puts another modular solar generator-- the AC500 & B300S on sale on its Canada website on Jan. 12, two days after it starts its early promotion, "The Sun Shines Wherever You Go", which will end on Jan. 25. Besides, the company is holding an open call for "BLUETTI Heroes" among its global users.
AC500+B300S - Customizable Backup Power
Pulling in $11 million on Indiegogo, this popular generator is finally available on the Canadian online store. The 5,000W inverter AC500 with B300S packs can reach a max capacity of 18,432Wh. Supported by two separate efficient MPPT controllers, the AC500 allows for a 3,000W max solar input in addition to its 5,000W AC input, together, for 8,000W dual inputs. Quick switchover, full-time UPS and smart App connectivity all make the AC500 a standout backup power source for home use or off-grid living.
Now, BLUETTI offers an early bird price for single unit or bundles for a limited time.
New Solar Panels PV68
BLUETTI has recently released the most portable PV68. Made of monocrystalline silicon and coated with ETFE to ensure a 23.4% conversion efficiency and longer life and weighing only 3.4kg and producing 68W power from sunlight, the PV68 can be carried around for outdoor activities.
AC300+ B300-Modular Power Backup System
With a modular and stackable approach, the AC300&B300 combo allows for easy upgrade to an all-house power system for every need, maxing out at 12,288Wh. The AC300 inverter can comfortably power all regular household appliances with up to 3,000W continuous output and 6,000W surge capability. Its recharging rate can top 5,400W if combining 3,000 AC input and 2,400 solar input, which is supported by two separate MPPT controllers.
AC200MAX All-in-one Power Beast
A successor to the popular AC200P, the AC200 Max ramps up the technology and offers expandable options with additional battery modules, such as two B230 to 6,144Wh and two B300 to 8,192Wh. Even standalone, it has 2,048Wh power in the belly and can deliver 2,200W to multiple devices via its 14 outlets, plus two wireless charging pads on top. There are seven ways to top up this all-around power beast, including 1,400W AC and solar dual charging.
BLUETTI Hero Recruitment
All BLUETTI users can apply to be a BLUETTI hero this year. About 15 applicants will be selected to participate in the filming of documentaries. After the publication of the documentaries, every hero can pick any BLUETTI product priced at US $1,000 as a gift.
About BLUETTI
From the very beginning, BLUETTI has tried to stay true to a sustainable future through green energy storage solutions for both indoor and outdoor use while delivering an exceptional eco-friendly experience for everyone and the world. BLUETTI is making its presence in 70+ countries and is trusted by millions of customers across the globe.
For more information, visit BLUETTI online at https://www.bluettipower.ca/.

Facebook: https://www.facebook.com/bluetti.ca/
Instagram: https://www.instagram.com/bluetti_canada/
Twitter: https://twitter.com/bluetti_inc
Youtube: https://www.youtube.com/@BLUETTIOfficial
Source: BLUETTI POWER INC.
Tags
Related Files