Bluesound Wins What Hi-Fi? Product of the Year for Third Time in a Row
What Hi-Fi? Sound & Vision awards Bluesound with its third consecutive Best Multi-Room System of the Year at the 2016 What Hi-Fi? Awards in London.
Press Release
-
Oct 19, 2016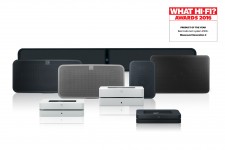 LONDON, UK, October 19, 2016 (Newswire.com) - For the third straight year, Bluesound, the leading wireless multi-room hi-res music system, received the coveted 2016 Product of the Year Award in the Multi-room Systems category from What Hi-Fi? Sound & Vision. The award was announced at the What Hi-Fi? Awards in London on October 17.
"We are extremely delighted and proud to win this award for the third consecutive time. This goes to show the consistency, commitment and passion that Bluesound demonstrates," said John Banks, Chief Brand Officer and Director of Market Development for Bluesound. "Bluesound continues to set the bar in the multi-room streaming category by offering music lovers an incredible, high-quality listening experience in the living room or any room of the home."
What Hi-Fi? Sound & Vision is a leading publication with a 40-year heritage of providing independent advice for consumers of home entertainment products. The What Hi-Fi? Awards is the publication's way to celebrate the best innovations in technology throughout the year, honoring 102 products across 27 categories, from TVs, hi-fi systems, Blu-ray players and sound bars to headphones, tablets and wireless speakers. 
This year, What Hi-Fi? has again honored Bluesound's Gen 2 line of products as the best-sounding multi-room system, acknowledging its uniqueness in the category for offering High-Resolution Audio (HRA) support, as well as the ability to decode Master Quality Authenticated (MQA) music. Additionally, the publication mentions the products' versatility. Bluesound's PULSE 2, PULSE MINI, AND PULSE FLEX, are compact all-in-one wireless speakers, allowing users to stream digital music from a local library or streaming service to anywhere in the home with the intuitive control from a smartphone, tablet or desktop. For true audiophiles who want the convenience of accessing and controlling music from a smart device, but do not want to give up their traditional stereo set-up, Bluesound offers component devices like the NODE 2, POWERNODE 2, and the VAULT 2, that make traditional stereos "smart". Bluesound's newest product in the Gen 2 lineup is the PULSE SOUNDBAR, which brings high-resolution sound to HD televisions.​
The 2016 What Hi-Fi? Awards issue is available on newsstands now. You can also read What Hi-Fi? Sound & Vision's full 2016 Multi-Room Systems - Product of the Year award and reviews at www.whathifi.com/awards/2016/multi-room-systems.
​Press Contacts
Peter Hoagland
North American Media Relations, Bluesound
peter@hoagland.us
Richard Stevenson
International Media Relations, Bluesound
richard@rspr.co.uk
About Bluesound
An alliance of audiophiles. We are the designers, engineers and individuals who have spent our lives in the music industry. Our founders helped pioneer HiFi in the 70s – innovation and the pursuit of perfection in audio runs deep in our collective DNA. Bluesound's sole mission is to create innovative wireless audio products and technologies that allow for the most true-to-source music reproduction possible, utilizing the most advanced, state-of-the-art digital technology.
About Lenbrook
The Lenbrook Group of Companies is a privately held Canadian corporation and owners of the NAD Electronics, PSB Speakers and Bluesound brands and developers of the BluOS distributed audio and music management technology platform. Formed in 1978, Lenbrook is also the primary distributor of Lenbrook brands in Canada, the USA, Singapore, and Hong Kong. It is a national distributor of electronics and communications products in Canada and has grown to become a leading global supplier to 80 countries around the world. 
Source: Bluesound
Share:
---
Categories: Internet and Streaming Media, Home Theater and Audio/Visual Equipment, Consumer Electronics
Tags: awards, bluesound, multi-room system, product of the year, streaming music, what hi-fi? sound & vision
---