Bluenumbers Measure SDGs Benefit to Individuals
Press Release
-
updated: Dec 28, 2016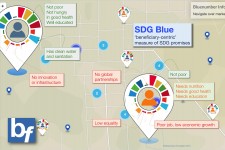 Geneva, Switzerland, November 18, 2016 (Newswire.com) - Bluenumber Foundation today introduced a framework to measure the impact of SDGs at the level of an individual. 'SDG Blue' was presented at an event during the UN Forum for Business and Human Rights as a tool to enable people to verify if they are benefitting from projects aiming to achieve the SDGs.
In 2015 the United Nations launched a set of seventeen Sustainable Development Goals (SDGs) with 169 targets covering a range of sustainable development issues including ending poverty and hunger, improving health and education, and making consumption patterns more sustainable. The SDGs are being implemented over a 15 period with a view to achievement by 2030.
"SDG Blue is designed to monitor and track whether efforts to implement the SDGs actually make people's lives better" says Puvan Selvanathan, CEO of Bluenumber Foundation, "rather than simply being feel-good targets for policymakers and development consultants".
Bluenumber Foundation, a non-profit organisation based in New York, will offer SDG Blue as an enhanced feature for the unique bluenumbers now being piloted in several projects in Asia. SDG Blue allows the holder of a bluenumber to report and verify if she or he is actually benefitting from activities conducted by governments and companies to achieve the SDGs.
SDG Blue uses real-world benchmarks calibrated by simple surveys. By answering whether they have access to clean water, or a roof over their head, or enough to eat, people directly provide a real-time check-and- balance for government statistics or to corroborate corporate CSR claims.
"SDG Blue aims to measure poverty, food insecurity and livelihoods, and opportunity for social equity or inequity, because the global resources we invest to achieve the SDGs must result tangibly better lives, and people are the best judge of that" adds Benjamin Graub, a Mercator Fellow on Big Data at the Bluenumber Foundation.
For more information please email:  info@bluenumber.org
__________________________________________________________________________________
About Bluenumber Foundation
The Bluenumber Foundation (BNF) is a 501(c)(3) not-for- profit organisation headquartered in New York and operating globally. BNF is transforming how the world uses data to recognize and enable the 'digitally-disenfranchised'. A 'bluenumber' enables anyone to let themselves be recognised globally. An individual uses a bluenumber to put a basic set of information about themselves into the public domain. Any existing serial number, code, name, identity card number or telephone number in the world can be designated as a bluenumber. BNF promotes the United Nations Global Goals for Sustainable Development (SDGs) and offers the global public registry of bluenumbers ('BlueView') to measure the achievement of the SDGs. Governments, businesses, NGOs and communities use BlueView to make better policy—making decisions and design targeted sustainability solutions.
For additional information please see www.bluenumber.org
Source: Bluenumber Foundation
Share:
---
Categories: Non Profit, Food and Beverage Manufacturing, Human Rights
Tags: Food Security, Human Rights, Hunger, Inequality, Poverty, SDG Blue, SDGs, United Nations
---