Blueforce Announces the New BlueforceMOBILE Command Kit That Ensures Speed of Command During Complex Emergencies
Press Release
•
Mar 29, 2023
BlueforceMOBILE Command Kit enables emergency communications, adaptive edge ICS services, and inter-agency coordination at the incident scene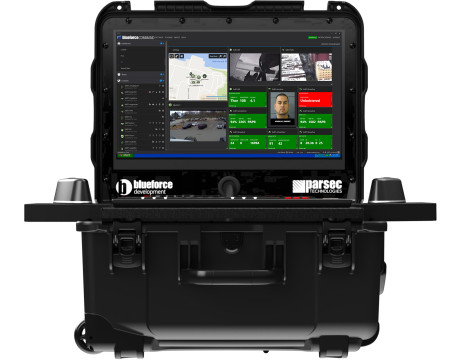 NEWBURYPORT, Mass., March 29, 2023 (Newswire.com) - A senior leader at an "NFL city" police department recently shared that a major mass casualty event had 1000+ first responders swarm a hastily formed command post proximate to the scene, which was largely relying on butcher paper duct-taped to a wall for tactical incident command hierarchy and cataloging. After action discussions yielded a need for a more technology driven approach that enabled virtual responder "check-in", a shared inter-agency view of command hierarchy, and a means for unified communications that could embrace the multitude of mobile devices brought to the scene to include email, SMS, and interoperable voice and data services originating at the "edge" of the network.
Blueforce is proud to announce general availability of the new BlueforceMOBILE Command Kit, a 32-pound, airline checkable mobile command kit that includes a variety of communications, networking infrastructure, edge computing, tracking and collaboration, surveillance and video capabilities, and a commander defined "common operating picture" which can be shared using simple web browsers for inter-agency awareness.
Through partnership with Parsec Antennas, the BlueforceMOBILE Command Kit delivers a fully integrated solution that ensures a mobile command capability that can operate efficiently and autonomously in different environments and conditions, providing essential capabilities for emergency responders to make informed decisions and coordinate activities at the scene.
The mobile kit was designed to deploy and redeploy in minutes featuring a footprint that is military and civilian transport friendly. As important, the kit is a future-proof and sustainable platform that can embrace and extend today's ground sensors, autonomous platforms, and information services, with tomorrows. The kit delivers mobile edge compute, WIFI/5G/MANET communications, and a single pane of glass operational view enabling far edge operations with minimal and even zero backhaul. The communications capabilities are carrier agnostic and supports AT&T FirstNet, Verizon, and T-Mobile in the United States. The kit delivers an array of benefits which include:
Rapid standup and redeployment
Joint/inter-agency adaptive incident command
Real-time edge data processing for minimized decision latency
Improved resilience of command with efficient use of bandwidth, local and to the cloud
Agility and rapid adaptation as incident requirements change
"The new BlueforceMOBILE Command Kit was borne of firsthand experience in deploying to Phase 4 civil-military environments and some of the most severe emergencies and disasters. These environments are incredibly unforgiving of any jitter in power, compute, and communications which has a direct impact on local command and control, and can negatively impact successful and timely outcomes," said Michael Helfrich, Blueforce founder and CEO.
The BlueforceMOBILE Command Kit is available now through Blueforce value added resellers and multiple distributors. To learn more, please visit our product page at https://www.blueforcedev.com/products/blueforcemobile-cp/ or call us at +1 866-960-0204.
Source: Blueforce Development Corporation