Bluechip Systems Validates MicroCloud X4™ to NIAP Common Criteria as Self-Encrypting MicroSD
NIAP-Certified MicroCloud X4™ Full Drive Encryption Solutions are Available for National Security Systems Procurement
Press Release
-
updated: Nov 3, 2017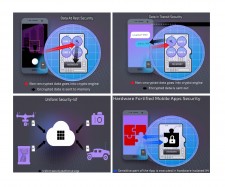 SANTA CLARA, Calif., November 3, 2017 (Newswire.com) - Bluechip Systems LLC, a leading provider of unique cybersecurity solutions for government and commercial markets announces that its MicroCloud X4™ platform has successfully completed NIAP validation as Full Drive Encryption device in microSD form-factor that performs Authorization Acquisition and Encryption Engine functions in mobile devices.
The evaluation was carried out in accordance with the Common Criteria Evaluation and Validation Scheme (CCEVS) processes and procedures. Following successful validation, MicroCloud X4™ has been included in NIAP Product Compliant List (PCL), Validation ID 10740, and became available for National Security Systems (NSS) Procurement according to Committee on National Security Systems Policy #11.
Dubbed "the tiniest Linux computer ever created," MicroCloud X4™ is the only NIAP-certified Full Drive Encryption solution in microSD form-factor, which provides a complete Hardware-Isolated Linux programmability, Secure Boot with Hardware Root of Trust and obfuscated and encrypted storage.
A unique architecture and implementation of MicroCloud X4™ platform, powered by Bluechip Systems patented CoolEngine™ SoC, with its comprehensive and patented suite of SDK, allows a seamless and certifiable integration of any standard or proprietary cryptographic protocol, as a part of end-to-end security on public or private networks.
CoolEngine™ Adiabatic Processor Architecture enables MicroCloud X4™ to provide 22GOPS of programmable processing for a variety of increasingly demanding algorithms such as Sensor Processing, Machine Learning, and Analytics in addition to the security algorithms in a very small footprint at the edge and with ultra-low power consumption.
"Bluechip Systems' MicroCloud X4™ distills all benefits of current approaches for Hardware and Software Data-at-Rest protection into one portable, uniform and cost-effective container while overcoming weaknesses of each separate solution," said Uri Kreisman, Bluechip Systems COO. "MicroCloud X4™ brings a strength of any given cybersecurity solutions into end-points which currently cannot be adequately protected for the lack of isolated processing and storage capabilities or for the prohibitive cost of implementing and sustaining such protection."
Kreisman continues, "MicroCloud X4™ enables system cybersecurity solutions which until now were either technically unfeasible or cost-prohibitive. For example, a plug-in Hardware Root of Trust completely seals any endpoint from man-in-the-middle attacks, effectively preventing weaponization of such endpoint as a source of future DDoS or thingbot (Mirai) attacks. Hardware-Isolated Secure Boot brings a plug-n-play capability for a true Dual Persona mode to any COTS/BYOD phone, which has a microSD slot, without a need to root or heavily modify it. Complete physical separation between black and red data meets and exceeds requirements of CSfC DAR Capability Package for any type of mobile, portable and mission-specific product."
MicroCloud X4™ solutions are available for immediate deployment to Federal Agencies, system integrators, telecoms, and IoT cybersecurity providers.
About Bluechip Systems
Bluechip Systems develops revolutionary solutions and full turn-key products for mobile and IoT cybersecurity for government and commercial sectors, as well as pioneering ultra-low power high-performance architecture for vision and sensor processing necessary for an untethered VR/AR/MR experience.
Bluechip Systems is headquartered in Santa Clara, California. For more information, please visit http://bluechipsys.com/about or write to info@bluechipsys.com.
Source: Bluechip Systems LLC
Share:
---
Categories: Defense and Homeland Security, Military and Defense, Embedded Computing, IT Security, Microprocessors
---