Blogger Bash NYC to View the Hottest New Products for the Holiday Season
Blogger Bash Sweet Suite party hosted by Toy Insider featured the greatest new products of the holiday season to more than 300 bloggers, 75 YouTubers, 150 press, and 350 brand representatives.
Press Release
-
Jul 26, 2016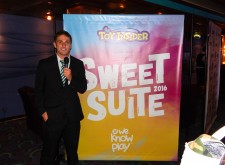 New York, NY, July 26, 2016 (Newswire.com) - Blogger Bash is a two-day conference that features multiple parties, expos and events allowing hundreds of brands to connect with hundreds of bloggers.  
Sweet Suite is a party at Blogger Bash that is hosted by the Toy Insider. Sweet Suite is all about toys and children's entertainment, with more than 80 companies showing off their latest toys, games, and more in advance of the holiday season.
There were so many standout moments at Blogger Bash this year. Everything kicked off with an incredible Care Bears Brunch, then bloggers got to experience NYC in a totally unique way aboard The Ride. Then, the attendees rocked the Majesty Yacht at Sweet Suite 16. On the second day, everyone fed their imaginations at the Kate & Mim-Mim breakfast, where the creators explained their inspiration for their show. Then, bloggers headed to Babypalooza to connect with more than a dozen top-notch baby brands, and compete in a diaper-changing contest. For lunch, everyone heard from the pint-sized Peanuts cast, and then Ginger Zee spoke about her experience as a mother to her adorable son Adrian. Next, Snooki and JWoww took the stage to announce the second season of their Awestruck TV series Moms with Attitude. Finally, despite a passing storm, everyone enjoyed a final cruise around the Hudson, taking in breathtaking views of the Statue of Liberty in a bath of sunlight. ​
We believe in blogging. I think that's the most important thing about what we do. Brands need these influential men and women. They can make or break a product, and we want to be there giving them the connections they need.
"Our ultimate goal is to help bloggers make an impression on brands, and show their stuff. And we want brands to get assistance in getting their products some much-needed media attention. At the end of the day, it's a win-win for both parties," states Marissa DiBartolo, Senior Editor of Toy Insider.
About Marriah Media:  http://marriahmedia.com/
Source: Marriah Media
---
Categories: Business News, Consumer Goods, Toys
Tags: Blogger Bash, Jeanne Murphy Public Relations, Marriah Media, Santa Choice Awards, Sweet Suite, Toy Insider
---