Block Party to Celebrate Community Partnerships
On the first anniversary of the opening of the Scientology Information Center and six humanitarian centers in downtown Clearwater, the Church of Scientology to host a block party to celebrate a year of progress, working with the community in Clearwater and throughout Tampa Bay to address vital community issues.
Press Release
-
Jul 5, 2016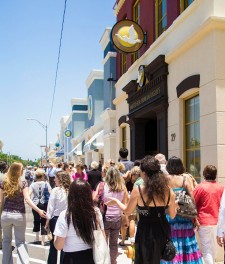 Clearwater, Florida, July 5, 2016 (Newswire.com) - ​​​The Church of Scientology Flag Service Organization is hosting the first annual Downtown Block Party July 16 to celebrate the first anniversary of the Scientology Information Center and Church of Scientology-sponsored social betterment centers in Downtown Clearwater.
Beginning at 5:00 p.m. on Cleveland Street between Garden and Ft. Harrison avenues and on Waterson Avenue from Cleveland to Hendricks Streets, guests are invited to enjoy the music, games and prizes. Admission is free.  
Clearwater is known as the spiritual headquarters of the Church of Scientology, and to answer questions about the religion for residents and those visiting the city, the Church opened the doors to its new information center July 11, 2015, along with six distinct facilities dedicated to the local advancement of Scientology-affiliated global humanitarian initiatives.
The Information Center has helped answer the question, "What is Scientology?" for thousands of visitors with its information displays containing some 300 documentary videos. The Center also hosts concerts, seminars and meetings and makes its conference facilities available to like-minded groups to plan and coordinate action to better the Clearwater community.
The six new humanitarian centers on Fort Harrison Avenue represent:
The Church's Volunteer Ministers. Part of a global movement active in 120 nations, the new center brings this unconditional help to the Clearwater community;
United for Human Rights, a global education initiative working to identify and protect the rights of every citizen of the world and now every resident of

Pinellas

County;
The Foundation for a Drug-Free World Florida, whose international Truth About Drugs program has reached 260 million people worldwide;
Clearwater's The Way to Happiness Association, promoting the nonreligious moral code written by
L. Ron Hubbard, to provide the moral compass needed locally;

Criminon

Florida headquarters to address the causes of criminality and restore offenders' self-respect through effective character-building programs;
Citizens Commission on Human Rights Florida operations center and museum, where volunteers work side-by-side with like-minded groups and individuals to stop abuses in the field of mental health.
The Scientology religion was founded by humanitarian and philosopher, L. Ron Hubbard. The first Church of Scientology was formed in the United States in 1954 and the religion has expanded to more than 11,000 Churches, Missions and affiliated groups in 167 nations.
Source: ScientologyNews.org
Share:
---
Categories: Non Profit, Religion, Community Standards
Tags: Citizens Commission on Human Rights, Clearwater, Criminon, Foundation for a Drug-Free World, L. Ron Hubbard, Scientology, Scientology Information Center, The Way to Happiness, United for Human Rights, Volunteer Ministers
---