Blitzionaire Game, the Play-to-Earn Game That Keeps on Giving
Press Release
•
Apr 7, 2022
Breaks the record of NFTs sent to players in 2022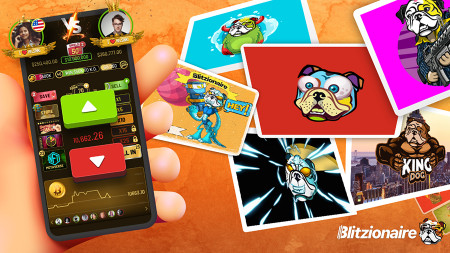 NEW YORK, April 7, 2022 (Newswire.com) - Blitzionaire by Playnance.com, the play-to-earn game that makes having fun literally pay off, sent over 100,000 NFTs to players all around the globe. In a world where digital assets seek to replace reality as we know it, playing a game as Blitzionaire can truly take players to the next level of fun and fortune.
To provide players more influence over in-game assets, an NFT game mixes traditional gaming ideas with unique game methods. Launching games and anchoring them with digital asset-powered economies makes this possible. NFTs are commonly used for these digital assets since they are distinctive and tamper-proof. The implementation of NFT token standards also allows game creators to keep certain of these in-game objects rare and distinctive.
Blitzionaire is a one-of-a-kind, play-to-earn trading game. A player-vs-player prediction game on real-time market rates, users play on real-time markets and earn virtual BlitzCoins on their winnings. Players can buy real NFTs with the coins they earn; the only investment required is time and effort.
Players can use this system to claim ownership of game assets, buy digital items and unlock and earn new items. Players have exclusive ownership rights over these game assets regardless of how they access them. In essence, the player is the owner of the asset and can use it as he desires. This is why the gaming model is referred to as "play-to-earn."
Virtual economies in gaming universes are becoming increasingly popular, particularly in the worlds of metaverse and web 3.0. Gamers add value by devoting time to the game and actively participating in the in-game economy. The play-to-earn model could be viewed as a way to synergize both parties so that everyone is rewarded for their contributions. On the one hand, game developers can create a more vibrant in-game economy. Gamers, on the other hand, get to keep their in-game assets and are rewarded for their efforts.
Blitzionaire developers took the play-to-earn ecosystem one step further. NFTs can be obtained for free by simply playing the game. Even if players remain at the freemium level, they are still eligible for NFTs if they accumulate the required number of virtual coins. That explains the massive number of NFTs sent to players' personal wallets since the beginning of the year.
The Blitzionaire "play-to-earn" developers collaborated with a team of superstar NFT designers to create unique collections of BlitzDogs NFTs. Collection items drop every two weeks, leading players to compete for the next big collection drop.
In recent months, the Playnance.com development team has been working on a new and improved version that will be released soon. An additional announcement will be made at the launch of the new version.
Source: Playnance.com