Blind Ambitions Honored With the Nationally Acclaimed "Partners of Choice" Award From David Weekley Homes
Press Release
•
updated: Aug 28, 2017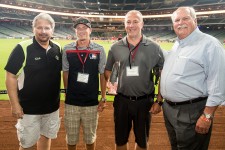 CLEVELAND, Tenn., August 28, 2017 (Newswire.com) - ​Blind Ambitions has been selected as only one of 17 companies to receive the nationally acclaimed A,A Partners of Choice Award from David Weekley Homes, earning an "A" ranking in both Quality and Service.
David Weekley Homes, the nation's largest privately-held home builder, implemented its comprehensive supplier evaluation platform and symbol for world-class excellence, the Partners of Choice Award in 2004. The unique evaluation platform allows David Weekley Homes to analyze supplier performance in diverse industries, provide feedback, and recognize those truly outstanding achievers through its coveted "Partners of Choice" Award. Under this process the homebuilder challenges both itself and its suppliers to operate at world-class levels. Team members are initally asked to rate each supplier's performance on Quality and Service. Then through a series of discussions, meetings and coaching calls, David Weekley Homes and its suppliers search for the best way to achieve excellence together. This process allows David Weekley Homes to take "partnering with its suppliers" to world-class levels. In essence, the homebuilder "walks the walk," with its partners.
Bill Justus, vice president of Supply Chain Services for David Weekley Homes, implemented the innovative evaluation platform in order to reduce channel costs, improve service, and thus enable the homebuilder to achieve its "Purpose of Building Dreams, Enhancing Lives."
"This marks the third straight year in which Blind Ambitions, a window coverings installer, has demonstrated itself to be a world-class provider by achieving our A,A Partners of Choice Award," said Bill Justus vice president of supply chain services for David Weekley Homes, and chief architect of the homebuilder's evaluation system. "Our friends at Blind Ambitions accomplished this remarkable feat by scoring within the top 8% of 200 participating companies, as evidenced by approximately 3,000 rating opportunities. This was done by successfully managing thousands of installation, administrative, and billing transactions. The length, breadth, and rigor of our evaluation platform means there are no short cuts to success. Only a partner dedicated to world-class excellence will ever achieve our award."
"Blind Ambitions is extremely proud to be by David Weekley Homes for the third straight year," said Eric Andrews, president of Blind Ambitions. "Our valued partnership with David Weekley Homes, along with its evaluation program, remain a top driver for our customer service standards. By our staff performing at a level that puts us in consideration for this Partner of Choice Award, it benefits all our customers across the board, as our service levels don't fluctuate between customers. It's an honor to receive this recognition from a builder dedicated to such high standards."
About Blind Ambitions
Blind Ambitions, LLC ("Blind Ambitions") is a leader in custom and stock window treatments serving homebuilders and consumers in both residential and commercial projects large and small throughout the Southeast and Middle Atlantic.
Founded in 2002, Blind Ambitions is headquartered in Cleveland, Tennessee operating in Tennessee, North and South Carolina, Georgia, Florida, Alabama, Mississippi, Virginia, Maryland, Pennsylvania, Delaware and New Jersey. Blind Ambitions is committed to bringing exceptional value and quality products to homebuilders and consumers. Blind Ambitions five strategically located distribution centers offer fast and efficient service to our homebuilders and customers eliminating the need to ship on a per job basis. With a focus on pricing and energy efficiency, we deliver top-notch installation and interior design at a tremendous value.
Blind Ambitions carefully selects its suppliers based on quality, durability and appearance of material, along with industry leading production times. From horizontal blinds and plantation shutters to shades, soft treatments and motorization, Blind Ambitions has it all to meet every window treatment need.
About David Weekley Homes
David Weekley Homes, founded in 1976, is headquartered in Houston and operates in 23 cities across the United States. David Weekley Homes was the first builder in the United States to be awarded the Triple Crown of American Home Building, an honor which includes America's Best Builder, National Housing Quality Award and National Builder of the Year. Weekley has also appeared 11 times on FORTUNE magazine's "100 Best Companies to Work For®" list. Since its inception, David Weekley Homes has closed more than 80,000 homes. For more information about David Weekley Homes, visit the company's website at www.davidweekleyhomes.com.
Source: Blind Ambitions