Blavity Inc. Launches Talent Infusion, First-of-Its-Kind Diverse Recruiting Tool, Powered by AfroTech
Press Release
•
Apr 6, 2023
Blavity's New SaaS Platform Makes it Easier for Employers to Hire a Diverse Workforce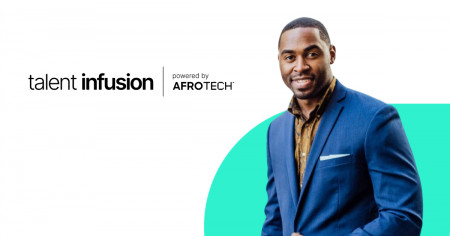 LOS ANGELES, April 6, 2023 (Newswire.com) - Blavity Inc. - the corporation that builds solutions for Black and multicultural audiences and enterprises who want to reach them - announces the launch of its first-ever software as a service (SaaS) platform, Talent Infusion. Powered by Blavity Inc.'s tentpole AfroTech brand, Talent Infusion builds upon the company's mission to fuel inclusivity across all businesses by connecting employers with a pool of diverse candidates.
Talent Infusion helps enterprise organizations find diverse candidates for hard-to-fill roles by increasing the talent pipeline. The automated Diversity, Equity, and Inclusion (DE&I) sourcing tool provides employers with a curated, diverse list of resumes that help match engaged job seekers with potential employers. While access to this talent pool was previously reserved for AfroTech brand partners only, Talent Infusion is now available to all enterprise organizations through an annual subscription.
The platform was born from Blavity Inc.'s AfroTech brand, catering to millions of readers every month, and its annual AfroTech Conference, which has become the largest Black and multicultural tech conference in the U.S. that serves as a recruiting hub for major brands and companies looking to connect with diverse talent. The AfroTech Conference drew in a massive crowd of 25,000 attendees in 2022, showcasing the immense interest and support for innovation and entrepreneurship within the Black community. Over 40% of the 2022 conference attendees were actively seeking employment. Many were successfully matched with employers on-site, with one such partner, Bank of America, extending offers to 95% of the candidates they interviewed.
"We've been supporting enterprise-level clients with their diversity challenges since 2016, and one of the biggest challenges we see brands face is the lack of diversity in their talent pipelines," said Simone White, SVP of AfroTech at Blavity Inc. "While there is not a talent shortage in highly technical fields, it's more important than ever for companies to find diverse candidates who bring different perspectives and experiences to the table. We're excited to offer Talent Infusion to all companies, giving them access to a curated database of engaged, diverse candidates and helping them build more inclusive workplaces."
DE&I has become increasingly important as more and more businesses recognize the value it brings to workplace culture, employee morale, and the bottom line. According to a recent study by Built In, diverse companies have 2.5 times higher cash flow per employee, and diverse management has been shown to increase revenue by 19%. Although 48% of Gen Z are racial or ethnic minorities, employers have difficulty recruiting and hiring diverse talent. Talent Infusion solves this issue by directly connecting hiring managers with highly engaged, diverse candidates actively seeking employment.
This new product comes at a time of unprecedented growth for the company, as Blavity Inc. has expanded beyond traditional publishing offerings to ad tech solutions, creative ad agency services, large-scale event productions, and more. Most recently, Blavity unveiled Home & Texture, the first lifestyle brand to celebrate the Black and multicultural millennial home, and Blavity Media Group, the division housing its six editorial brands that reach over 250M readers. The company also rebranded its ad network to Blavity360º, representing and connecting minority-owned publishers with advertising partners. Blavity Inc.'s ad revenue has doubled over the past year, and publishers have seen a 62% increase in average monthly page views and 23% new visitor growth on their sites since joining the network from 2022-2023.
For more information on Talent Infusion, visit https://talentinfusion.io/
Source: Blavity Inc.