blackSTORY Films Releases Short Film Dramedy "Didn't I Ask for Tea?"
blackSTORY films releases its short film dramedy about romance, race, and rent one year after launching its successful film festival run.
Press Release
-
Jan 25, 2016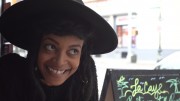 Brooklyn, NY, January 25, 2016 (Newswire.com) - ​​One year after its world premiere at the Pan African Film Festival, blackSTORY films has released "Didn't I Ask For Tea?" online.
The short film dramedy follows a Brooklyn woman's frenzied search for a new apartment in an overheated rental market, while dealing with the confusion of a new romance and a crumbling friendship.  
In its 2015 film festival run, the dialogue-driven film screened at the Brooklyn Museum, Pan African Film Festival, Black Star Film Festival, Roxbury International Film Festival, Black Harvest Film Festival, Greater Cleveland Urban Film Festival, Rwanda International Film Festival, Paris Black Movie Summer Festival, Reel Sisters Film Festival, and the Los Angeles Black Film Festival.
A story both by and about women, "Didn't I Ask For Tea?" is the first production of blackSTORY films and marks the writing/directorial debut of Rahwa Asmerom and Essence Ward, two longtime friends who wanted to not only create a work driven by intelligent and sharp dialogue, but also a work that reflected unconventional ideas about black culture.  "We opened the film with a conversation about the Huxtables and whether or not "The Cosby Show" negated black cultural esteem," said Asmerom.  "It's a conversation we've had many times but not the type of conversation you often see on film."
"Didn't I Ask For Tea?" stars emerging actress Trae Harris, who made her film debut in the indy hit film "Newlyweeds," and also features Keona Welch, Tre Davis, Roger Baptiste, LaTonia Phipps, Monique Lola Berkley, Shaquille Berry and Aden Fisseha. Along with Asmerom and Ward, the film was produced by NYC-based producer/director Jeremy Batchelor.
blackSTORY films will continue to focus on dialogue-driven, women-led, African-American productions in the upcoming year like the web series "Conversating While Black" featuring MaameYaa Boafo (An African City) and Andrea Lewis (Black Actress), set for release in March 2016, and the feature film "Maya vs. Settling," due out in 2017.
Watch the film on Vimeo or on blackSTORY films. 
---
Categories: A&E News, Movies, Ethnic and Multi-Cultural
Tags: african american, black cinema, black film, comedy, dramedy, romance, romantic comedy, short film, trae harris
---