Black-Owned Luxury Brand Magi Madeline Launches Garment Hanger Line
Press Release
•
updated: Jan 31, 2023
The company's first product is an innovative and fashionable take on the classic wardrobe staple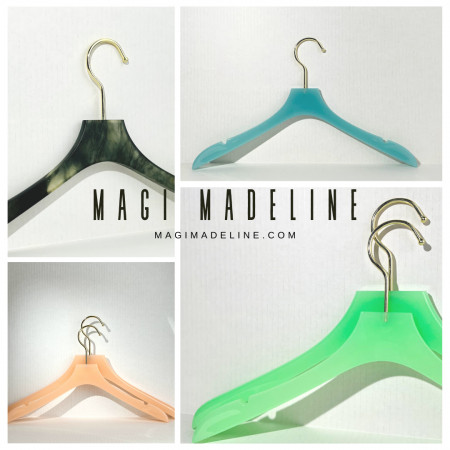 BOSTON, January 31, 2023 (Newswire.com) - Woman-owned luxury brand Magi Madeline is excited to announce the launch of its luxury lucite garment hanger, designed to help keep any wardrobe space looking neat, organized, and above all, more modern and luxurious. Designed with the fashion-focused woman in mind, the hangers come in a variety of colors and styles, complete with an optional personalization service to add a customer's initials to each hanger.
"I believe your hangers should be as luxurious and functional as the garments you've invested in," said Magi Madeline Founder and wardrobe stylist Aishah Abdul. "The current luxury hanger industry falls flat when it comes to options, so I decided to create my own."
After working with several clients to audit and organize their wardrobes, Abdul saw the need for more luxurious, colorful hanger options to help showcase clothing in a more elegant and stylish way. She launched Magi Madeline, naming the company after her grandmothers, to fill that gap and help even the most discerning customers spruce up their closets.
However, these hangers are as much about function as they are about high fashion. Sturdier and more durable than many of the most popular hangers currently on the market, they are designed to keep clothes in place and keep their shape. Your wardrobe is an investment, why not protect it and make it look good?
Magi Madeline also offers color customization and personalization services. This service allows customers to choose custom colors not offered to the general public and gold stamped initials on each hanger, adding to the customer's own individual style.
Aishah Abdul is available for remote or in-person interviews to talk more about her exciting product launch, Magi Madeline, entrepreneurship, home décor and high-fashion trends. She can also offer tips for keeping an organized and functional wardrobe.
Black-Owned / Woman-Owned Luxury Brand
For media inquiries, contact hello@magimadeline.com, or call 857.880.4148.
Find more information at www.magimadeline.com.
Wholesale options through Faire.com
Source: Magi Madeline