Black Lightning - Tobias's Revenge Fan Film Part 1 Release Date
Project raises the bar on super hero fan films.
Press Release
-
updated: Apr 14, 2017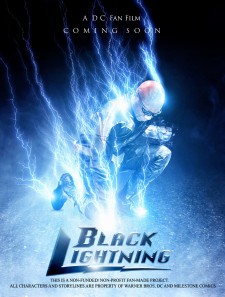 Los Angeles, CA, April 14, 2017 (Newswire.com) - "Black Lightning - Tobias's Revenge" A Fan Film Part 1 is slated for an online release Tuesday, April 25th, 2017 on the film's website at www.blacklightningfanfilm.com and on the company's Youtube channel: Darkanentertainment with part 2 scheduled to follow 2 weeks after.
Ex-Mayor and crime Lord Tobias Whale has returned to Suicide Slums to exact revenge against local famed superhero Black Lightning. Tobias gathers gang members from the local gang 100 and several other supervillains to kidnap the mayor of Metropolis and lure Black Lightning into a trap. Just when things for Black Lightning take a turn for the worst, he gets help from unexpected sources who interrupt Tobias's plans of revenge.
"Black Lightning - Tobias's Revenge" was directed by Choice Skinner, co-written by Skinner and James M Black. The project was filmed in the spring/summer of 2016 for a total of 7 days and funded out of pocket by several actors starring in the short, including the director/lead actor. The film has been completed and will be aired online in two parts on Youtube and the film's main site. All VFX was completed by James M Black Choice Skinner & Chase Baker. The short stars award winning actor/director Choice Skinner (Brotherly Love) as Black Lightning, James M. Black as "Static", Dimitri Morantus as "Tobias Whale", Jay Hunter (If Loving You Is Wrong, Acrimony) as "Gangbuster" and Sachiko Ishida as "Lady Shiva".
"A lot put a lot of hard work and time was put into this project to make it epic. Seeing Static appear side by side with Black Lightning will show they are not the same character and also give the fans what they've been asking for," says Black.
Disclaimer: "Black Lightning - Tobias's Revenge is a non-funded / not for profit fan made-project that is not intended for commercial use. It was made solely for fun. Characters are owned by Warner Brothers DC & Milestone Comics. This fan-film is not connected in any way to said companies."
Several clips of part 1 of the short film are currently available and can be found here:
Black Lightning Promo Clip 1 - https://youtu.be/w38NpQNyifk
Black Lightning Promo Clip 2 - https://www.youtube.com/watch?v=K8uMTh58Fgs
Black Lightning Promo Clip 3 - https://www.youtube.com/watch?v=_lEl1KS85DI
OFFICIAL SITE: http://www.blacklightningfanfilm.com
TWITTER: @blfanfilm
IMDB: http://www.imdb.com/title/tt6262322
Source: Darkan Entertainment, LLC
Share:
---
Categories: A&E News, Celebrities, Internet and Streaming Media, Movies, Television, Online Programs, Arts and Entertainment
Tags: batman, blacklightning, choiceskinner, comics, cosplay, dcomics, fanfilm, jayhunter, justiceleague, static, superhero, warnerbros
---