Black Book Research Celebrates Its 7th Consecutive Year on the Inc. 5000 List of Fastest Growing Companies
Press Release
•
Aug 16, 2023
The market research and data platform company also ranked in the top 15 of the list's healthcare industry services firms for three-year growth.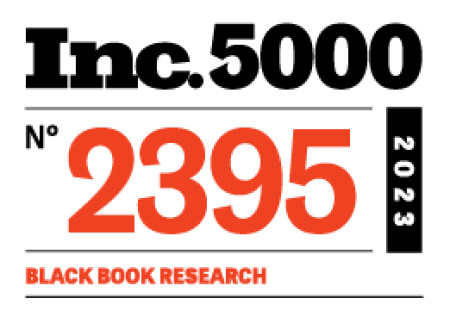 NEW YORK, August 16, 2023 (Newswire.com) - Inc. magazine today revealed that Black Book Research is No. 2,395 on its annual Inc. 5000 list, the most prestigious ranking of the nation's fastest-growing private companies. Black Book has consistently earned the business honor every year since 2017.
"Black Book has advanced into a treasure trove of historical user-experience data, applying the latest tools, including AI, to extract usable buyer insights and value for the entire healthcare industry," said Doug Brown, founder.
For the seventh year in a row, Black Book Market Research LLC earned its place on the Inc. 5000 list, which recognizes the top 1% of fastest-growing private companies in the nation. This recognition highlights the company's exceptional growth and solidifies its position as America's leading healthcare technology and services market research company.
The Inc. 5000 list, published by Inc. magazine, has become a symbol of entrepreneurial success in identifying the most dynamic and innovative companies within the nation. Companies featured on this list have shown uncommon growth and success, often overcoming challenges and making a significant impact in their respective industries. In 2017, Black Book first debuted on the Inc. 5000 ranking at #601 evidencing 750% year-over-year revenue growth, and continues on its upward trajectory demonstrating 230% revenue growth again in 2023.
Black Book has experienced remarkable growth over the past 11 years, driven by a steadfast commitment to focusing on integrity, methodology transparency, and meeting all clients with a commercial model that best meets their needs, including IT buyers, startup and tech investors, industry consultants, analysts, equipment manufacturers, group purchasing organizations, managed care insurers, and health IT vendors.
Since its inception in 2011, Black Book has evidenced an average growth rate of more than 515% per year. Black Book is continuing its hyper-growth strategy, actively expanding its product line with an AI-powered data lake, and competitive research platform including over 20,000 products and equipment, managed services, IT software vendors, and advisory firms for subscribers to model their own detailed vendor performance reports with unrivaled transparency and accuracy.
"It's an honor to be named to the Inc. 5000 for a seventh straight year and a testament to our team, our partners, and our clients," said Brown. "Our growth is driven through a desire to be a destination research firm where clients and subscribers can develop their own structure of reporting, in real-time across all medical delivery settings, including hospitals, physician practices, health plans, managed care companies, long-term care, behavioral health, rehabilitation, academic medical centers, health systems as well as competitive vendors globally". Black Book's reach now includes healthcare delivery systems and technology vendors in 32 countries.
"The accomplishment of building one of the fastest-growing companies, in light of recent economic roadblocks, cannot be overstated," says Scott Omelianuk, editor-in-chief of Inc. "The Inc. 5000 class of 2023 represents companies that have driven rapid revenue growth while navigating inflationary pressure, the rising costs of capital, and seemingly intractable hiring challenges. In all, this year's Inc. 5000 companies have added 1,187,266 jobs to the economy over the past three years."
Complete results of the Inc. 5000, including company profiles and an interactive database that can be sorted by industry, region, and other criteria, can be found at www.inc.com/inc5000.
About Black Book™
Black Book Market Research LLC, provides healthcare decision-makers, IT users, media, investors, analysts, quality-minded vendors, prospective software system buyers, health plans, and other interested sectors of the insurance technology industry with comprehensive comparison data of the industry's top respected and competitively performing technology and managed services vendors in the sector, all from the experience of actual users and consumers.
The largest user opinion poll of its kind in the healthcare industry, the Black Book™ database of user satisfaction houses over two million viewpoints on information technology, capital equipment, emerging technology, consulting firms, and outsourced services vendor performance, with thousands of updates added every week throughout the year. For methodology, auditing, resources, comprehensive research, and ranking data, see http://www.blackbookmarketresearch.com.
Black Book™ management, founder nor its staff own or hold any financial interest in any of the vendors covered and encompassed in its crowd-sourced, sweeping user polls, and Black Book reports the results of the collected satisfaction and client experience rankings in publication and to media prior to vendor notification of rating results. Follow Black Book on Twitter @blackbookpolls and LinkedIn at https://www.linkedin.com/company/blackbookmarketresearchllc.
Source: Black Book Research
Related Media