Bizarre Wilderness Experience Inspires New Young-Adult Fantasy Novel
Press Release
•
Mar 15, 2016
An encounter with wild horses in a remote mountain wilderness area on a winter night was the inspiration for a new YA fantasy trilogy titled 'DARK STALLIONS - Legend of the Centaurians'. Proceeds from book sales will support rescue, sanctuary and advocacy for Wild and domestic horses.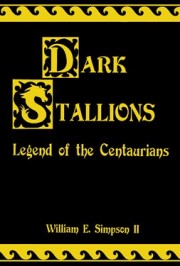 Yreka, CA, March 15, 2016 (Newswire.com) - 'DARK STALLIONS – Legend of the Centaurians' is the first work of fiction by author William E. Simpson II and it is being released on March 15th 2016. DARK STALLIONS – Legend of the Centaurians is now available at AMAZON.
When author William E. Simpson II took up residence in the rugged mountain wilderness on the Oregon – California border with his wife Laura, he never expected what was to come next. They had acquired land that was in an area that was shrouded with mysteries and Indian lore, including the legendary 'Big-Foot'.
But after having completed a four-year 18,000 mile voyage at sea in 2011, that had William and Laura living for months at remote uninhabited islands in the Sea of Cortez and experiencing the wonders and tempests of deep blue Pacific, what could be more terrifying than thirty-foot seas, a fifty-foot killer whale swimming under your sailboat, or scuba diving at night with sharks?
"It was a moonless night in early January when I went outside with my flashlight to investigate some strange sounds. I must admit that it's a bit spooky being out at night in the middle of a remote mountain wilderness in the dark and alone. But at the same time, there is something magical about being alone in the wilderness at night under an infinite canopy of stars.
Suddenly in the blackness just beyond the range of my flashlight, a large dark silhouette moved.
I froze as the hair on the back of my neck stood on-end as if I were being electrocuted. It was at that moment that I saw a huge pair of piercing blue eyes staring at me. The eyes seemed to be hovering about seven-feet above the ground. I was initially terrified... was it Big Foot? Suddenly several sets of these 'eyes' were looking at me. As I began to regain my composure, I could make-out the outlines of three black and charcoal-grey stallions hovering in the darkness, watching me... 'Dark Stallions'...
As I drew nearer, I could see that these 'Dark Stallions' were a bachelor band of three wild stallions that had come up to visit our homestead.
That night when I retired, I had a vivid dream about these 'Dark Stallions' and an immortal being, Jack Walker. In a galactic instant, Jack Walker's life flashed through my mind as my head lay on the pillow. The following morning I felt compelled to tell Jack Walker's story, so I started writing.
I am pleased to note that a portion of the sales proceeds from this book will be donated to non-profit organizations, such as Safe Haven Horse Rescue and Sanctuary, who are dedicated to providing advocacy, rescue and sanctuary for wild and domestic horses and burros." ~ William E. Simpson II
Dark Stallions – Legend of the Centaurians is an exciting new YA fantasy trilogy and is based on a new mythology and contains seven original illustrations.
More about William E. Simpson II and Dark Stallions: https://www.facebook.com/Dark-Stallions-Legend-of-the-Centaurians-1794284444132872
Media Contact: Wildhorse Ranch Productions (email: gemmaster7@aol.com)
Related Media