BitLyft Cybersecurity Announces New Channel Partnership Program
Press Release
•
Aug 8, 2023
Program to Empower Managed Service Providers and Value-Added Resellers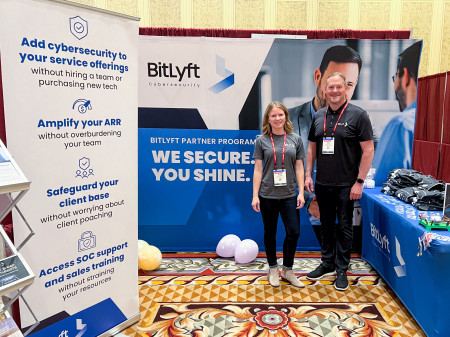 SAINT JOHNS, Mich., August 8, 2023 (Newswire.com) - BitLyft Cybersecurity, a premier Managed Detection and Response (MDR) provider, is thrilled to announce the launch of its new channel partnership program. This program is designed for Managed Service Providers (MSPs) and Value-Added Resellers (VARs) in the technology sector, aiming to strengthen their cybersecurity service offerings and boost their business success.
BitLyft initiated its new partner program last week at the ChannelCon Conference in Las Vegas. Hosted by CompTIA, the event provided the backdrop for BitLyft's demonstrated commitment to assisting mid-sized enterprises. These businesses, typically served by MSPs and VARs, often grapple with challenges like skills shortages, tight budgets, and insufficient knowledge or time for effective security measures. BitLyft is geared to address these challenges through its partnership offering.
BitLyft's channel program presents a unique opportunity for partners to amplify their cybersecurity services. The program offers MDR services, sales training, and an enhancement of the partners' Annual Recurring Revenue (ARR). BitLyft is committed to acting as a vigilant backup for partners, enabling them to focus on excelling in their core business.
"At BitLyft, our MSP partners' success is paramount," said Jason Miller, Founder and CEO of BitLyft. "We're not just a service, but a growth catalyst. Our promise is clear: we'll never poach customers. Instead, we prioritize transparency and collaboration every step of the way."
The benefits of partnering with BitLyft are manifold. The company not only complements partners' services but also increases their ARR. BitLyft provides extensive sales training and support materials, along with 24/7 monitoring and rapid response to threats. The program aims to do the heavy lifting so partners can focus on their primary work. Importantly, BitLyft operates on the principle of ethical partnerships, ensuring that clients remain with the partner.
BitLyft's MDR services offer a robust, high-impact solution that seamlessly integrates with partners' current offerings. The MDR service offers advanced security defense, boosted response speed, simplified security operations, and compliance reporting. It also allows for expanded network coverage without additional tools or maintenance, and time and money savings through automation.
BitLyft is seeking partners who are eager to grow and want to deliver top-notch services to their customers. The company offers flexible pricing designed to bolster partners' ARR. BitLyft offers handy resources like slide decks, comprehensive training, and ongoing sales support. The process of becoming a partner is as simple as filling out a partnership form, scheduling a discovery call, and starting the onboarding process.
Charlene Ignacio, BitLyft's Channel Chief and lead on the project, said, "BitLyft's channel partnership program presents an exceptional opportunity for boosting collaboration and pushing forward innovative solutions in cybersecurity. I am delighted to play a part in its debut."
For more information on BitLyft's new channel partnership program, or to apply, please visit www.bitlyft.com/partners.
Source: BitLyft Cybersecurity