BioPhotas Appoints CryoNext With Exclusive Distributorship of the Celluma Light Therapy Device in the US Whole Body Cryotherapy Market
CryoNext, LLC of Orlando, Florida leads the way, delivering valuable, revenue-generating modalities to its portfolio of wellness products with its focus on whole body cryotherapy.
Press Release
-
Oct 14, 2016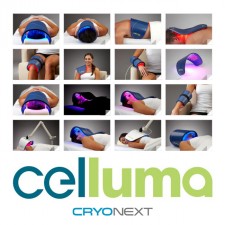 Orlando, Florida, October 14, 2016 (Newswire.com) - BioPhotas, Inc. and CryoNext, LLC jointly announced today that BioPhotas has appointed CryoNext as its exclusive distributor of BioPhotas' Celluma Series of products to the whole body cryotherapy market in the United States.  BioPhotas is the market leader in designing, manufacturing and marketing innovative light therapy devices and CryoNext is a turn-key provider to whole body cryotherapy businesses.   The exclusive distribution agreement includes minimum purchase requirement for CryoNext to maintain exclusivity, representing several millions in dollars of sales by BioPhotas in the initial term of the agreement. 
Commenting on the appointment, Joel Cruzada, the President of CryoNext explained, "The cryotherapy businesses that will succeed in this space will be the ones that create a therapeutic destination that offers a variety of experiences, which equate to additional revenue streams and not just depend on whole body cryotherapy as their only source of income.  And because of this, we want to continue our research and forward momentum, to find the best alternative therapies, like Celluma, that will complement whole body cryotherapy, and be able to offer them immediately to our customers."
​In today's business landscape, collaboration has become a more prominent objective between many industry leaders, leveraging each other's strengths while striving towards a similar goal.  In this case, BioPhotas, a leading manufacturer of light therapy devices, and CryoNext, innovative experts in the whole body cryotherapy industry, have come together to launch an initiative that will give cryotherapy business owners additional solutions that will add more revenue streams to their current cryotherapy business offering and, more importantly, an FDA-cleared device that adds to the valuable physiological effects that cryotherapy produces.
The FDA has previously cleared the Celluma for eight separate indications-for-use, including the treatment of acne and wrinkles, as well as muscle and joint pain, muscle and joint stiffness, muscle spasm, arthritis and compromised local blood circulation. Most of these conditions have been seen to benefit from cryotherapy as well.
The Celluma comes in three models: PRO, LITE, and ELITE, that all use three discrete wavelengths of light energy simultaneously, modulated with proprietary electronic algorithms, to effectively treat a variety of skin, muscle and joint conditions.  The Celluma is unique compared to other light therapy devices given its patented flexible design that molds to the body to allow the light to be absorbed more effectively, leading to higher efficacy and more predictable outcomes. 
"As a whole body wellness device, Celluma is an ideal stand-alone or adjunctive modality to cyrotherapy," said Denise Ryan, Vice President of Brand Management for BioPhotas.  "We are pleased to be partnered with CryoNext, our exclusive distributor in the cryotherapy field. CryoNext is positioned to offer excellent pricing, marketing and technical support for Celluma and all of the cryo market needs."
CryoNext will be adding the Celluma Series of light therapy devices to its line of cutting-edge cryosaunas and other alternative wellness devices, along with all the resources that a potential business owner will need to start a full-service cryotherapy business, including: cryotherapy insurance, liquid nitrogen supply and management, brand and website development, customer booking and point-of-sale systems, interior and exterior design consultation, demographic and location research, online and offline marketing, events and networking, merchandising, and product development.
 
This strategic move will not only combine the strengths of each company​, but will now open their combined customers to new products and will certainly be an exciting unfolding for all investing into the health and wellness industries.  
About BioPhotas, Inc.
BioPhotas, Inc. is a medical device company that was established to offer a new approach to biophotonic therapy for medical providers and consumers.   In providing unique devices founded on NASA-developed technology and backed by clinical studies, BioPhotas is bringing to market safe, effective and affordable devices that unlock the clinical power of biophotonics.   BioPhotas develops and market devices for healthcare providers and consumers that conveniently treat a variety of pain, dermatology and musculoskeletal conditions.
​About CryoNext, LLC
CryoNext, LLC is an innovations company focusing on producing products and services specifically designed for whole body cryotherapy business owners. From cryosauna and alternative modalities sales, marketing, branding, and franchise development, to online and hardware technologies development, CryoNext, LLC continues to innovate solutions for worldwide consumers and business owners alike that want to invest into the growing business of whole body cryotherapy.  ​http://www.cryonext.tech
Source: CryoNext, LLC
Share:
---
Categories: Sports, Fitness, and Recreation, Active and Healthy Living, Healthcare, Sports-related Business
Tags: celluma, cryonext, infrared therapy, laser light therapy, whole body cryotherapy
---