Biomedical Pharms Offers Body Balancing Broad Spectrum CBD Tinctures
Press Release
•
Aug 25, 2022
Biomedical Pharms' CBD Products Help to Promote Healthy Living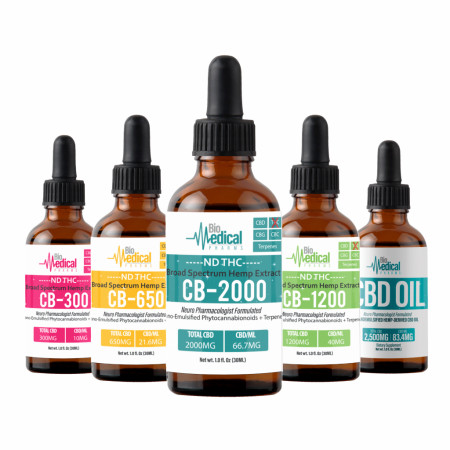 GROVELAND, Fla., August 25, 2022 (Newswire.com) - For almost 5 years BioMedical Pharms has helped their customers be their best and live life comfortably with their nano-emulsified broad spectrum CBD tincture. They have a wide range of tinctures for sale for both retail and wholesale.
CBD, or cannabidiol, is a neurochemical organic compound found in cannabis Sativa plants. It works with the endocannabinoid system (ECS) to maintain homeostasis within the body.
Broad spectrum CBD tinctures help those who have been overwhelmed with stress or notice they are becoming easily agitated.
"I purchased highly concentrated oils from them in a customized format to use as part of my cancer therapy, and I have to say they contribute significantly to my health and wellbeing," said Joseph C, a BioMedical Pharms customer. Cecilia A, another customer of BioMedical Pharms said, "I particularly been using the CB-2500 for over 3 years and it has added so much wellness to my routine, it supports my immune system, and feeling of rest and calmness."
Studies have found that CBD:
Calms stress
Relieves tense muscles
Improves hunger
Enhances the quality of sleep
Reduces inflammation
Crafted by neuropharmacologist, Dr. Sandra Acosta, BS, MSMS, PhD. BioMedical Pharms' tinctures contain certified organic broad-spectrum hemp CBD and other phytocannabinoids. "In a market so saturated with unscrupulous hemp companies, it is good to know that there is BioMedical Pharms Labs. They are transparent about their formulas, ingredients, and more" said Cecilia.
BioMedical Pharms uses all-natural ingredients like a proprietary terpene blend, triple distilled MCT oil, and sunflower lecithin. Their oral sublingual tinctures are not full spectrum, meaning its made from the cleanest industrial hemp with 0% THC.
Unlike other broad-spectrum brands, the uniqueness of the BioMedical Pharms formula is that is the only brand that contains consistently higher ratios of several cannabinoids including CBD, CBG, CBC, CBN, and CBDV, so you always get the same support for your wellness needs.
It is the most sophisticated broad spectrum hemp extract CBD oil and is nano-emulsified meaning the tincture absorbs readily, therefore increasing its effectiveness. Unlike other methods of consuming CBD, tincture only takes 30 seconds to absorb.
There are several different strengths to choose from depending on the users' health needs:
CB-300mg
CB-650mg
CB-1200mg
CB-2000mg
CB-2500mg
Additionally, BioMedical Pharms sells CBD tincture for pets with 350mg.
For questions, suggestions, comments, or feedback, email BioMedical Pharms at biomedicalpharmslabs@gmail.com.

Source: Biomedical Pharms