Binswanger Glass Celebrates 150 Years in Business
Press Release
•
May 4, 2022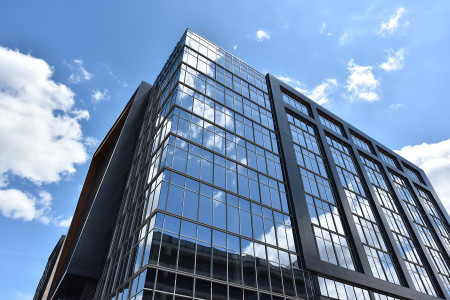 MEMPHIS, Tenn., May 4, 2022 (Newswire.com) - We are excited to announce that this year, Binswanger Glass is celebrating 150 years in business. The company was founded in 1872 by Samuel Binswanger, who opened a small retail glass store in Richmond, VA in the aftermath of the Civil War. But Samuel surely never envisioned that Binswanger Glass would become the largest and most experienced full-service glass installer in the United States.
Binswanger Glass has been an integral part of many major commercial projects in the U.S., including the UNC Charlotte Student Union Building and the Collins Aerospace expansion in Charlotte, NC; One Glenwood and Bloc[83] in Raleigh, NC; the Chevron Building in Houston, TX; and the Kennedy Outpatient Center at Children's Hospital at Erlanger in Chattanooga, TN, to name just a few.
The company thrived during the Reconstruction Era after the Civil War and began installing auto glass as cars replaced the horse and carriage. The early 1900s were a time of growth, and Samuel Binswanger brought in his sons to help expand the business. The first expansions were to Memphis, in 1906, and Houston, in 1923; from the three hubs of Richmond, Memphis and Houston, newer expansion went out like the spokes of a wheel.
The company then endured economic uncertainty, World War I, the death of three Binswanger brothers, and the Great Depression. However, rather than sacrifice its employees or lower its customer service standards, Samuel Binswanger chose to suffer years of losses.
The company's investment in people and customer service paid off. In the 1940s, Binswanger supported the World War II effort by installing glass in Army, Navy, Red Cross and hospital buildings throughout the South. The Memphis branch converted production to the manufacture of high-precision glass optics for torpedo sights and Navy binoculars, earning the company the coveted Army-Navy "E" rating and a Meritorious Service Medal.
In 1947, Binswanger Mirror was established to meet the increasing demands of a post-war customer base and to take advantage of the building boom that followed World War II.
The company grew around a vision of rebuilding, collaboration and innovation. Expanding beyond automotive and residential services, Binswanger Glass is a national leader in curtain wall installation and has grown to be one of the largest glazing companies in North America. Today, Binswanger has over 50 locations in 12 states, and over 800 full-time employees. In February 2022, USGlass® magazine ranked Binswanger Glass as North America's largest contract glazier by most locations, the largest contract glazier by number of employees, and the ninth-largest contract glazier by sales.
A lot has changed over the years, but no matter how fast the company has grown, Binswanger Glass still operates under the founding principles from 150 years ago: to give customers quality products, excellent service and competitive prices.
Mark Newsome, President of Binswanger Glass, said, "We lead our industry through innovation, expertise and customer service. We deliver premier glass products and solutions resulting in long-term relationships, and that is what has made us what we are today."
Although Binswanger has grown into a large company with a national footprint, they still have been able to maintain the family-owned business culture that Samuel Binswanger started 150 years ago. Binswanger Glass considers their employees their most valuable asset and has a track record of being an organization where careers are made.
Source: Binswanger Glass
Related Media
Related Files