Bill Goodman's Gun & Knife Show Comes to the Brand New 'M.C. Event Center & Fairgrounds' (Dayton, OH) Aug. 11-12. Sat 9-5 & Sun 9-4
Press Release
-
updated: Aug 7, 2018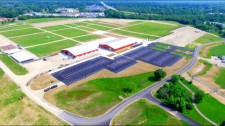 DAYTON, Ohio, August 7, 2018 (Newswire.com) - Bill Goodman's Gun & Knife Show has announced that due to the recent closure of the decades-old "Hara Arena" they have finally moved into their brand new facility at a new location. The Grand Opening will be celebrated this weekend (Aug. 11-12; 9-5 Sat.; 9-4 Sun.) where they will be producing their extremely popular Gun & Knife Show at the newly built "Montgomery County Fairgrounds and Event Center" (M.C. Event Center) located at 645 Infirmary Rd, Dayton, OH 45417. Bill Goodman's Gun & Knife Shows is one of the country's top, professionally produced, Gun & Knife Shows.
"We are excited to add the M.C. Event Center to our venue list," said company spokesman David Goodman. "This facility offers plenty of free parking and is an ideal location for people all over the Greater Dayton area to come and learn about the products we offer at the show."
Bill Goodman's Gun & Knife Show, which is open to the public, will offer guest the chance to see a wide array of Hunting/Shooting and Self-Defense related equipment. Bill Goodman's Gun & Knife Show promotes the safe and legal sale of firearms for collectors, traders and outdoor enthusiasts. Consumers come from all over the region to purchase items for sport shooting and hunting, as well as self-defense and protection. Guns of all kinds, including shotguns, rifles and handguns will be featured at the show. In addition, vendors offer holsters, gun cases, clips and grips, gun parts, manuals, ammunition and reloading equipment. Guests will also find modern, antique and custom knives, Military and Civil War items, camouflage and hunting gear, as well as expert information on Ohio's Concealed Carry program and Gun Safety Programs. The Gun & Knife show will bring vendors from all over the state to display Hunting equipment, Police Gear, Handguns, Ammunition, Knives and just about everything for the Hunting and Outdoor Enthusiast. The Show is expected to bring millions of dollars in revenue into the local Dayton Economy. Admission is $10.00 for Adults; accompanied Children 12 & Under are $1.00 (Free Parking).
For info: 24hr Hotline at (502) 538-3900 or http://www.GunShow.net
Contact: David Goodman at 502.538.6900 or email us at ProGun@GunShow.net
Source: Bill Goodman's Gun & Knife Show
Share:
---
Categories: Conventions, Trade Shows, Meetings and Events, Sports, Fitness, and Recreation, Hunting and Fishing
Tags: ammo, CCW., clips, grips, Guns, knives, NRA, rifles, scopes, self defense, shotguns, stun guns
---