Biggest Teams, With the Biggest Game of 2017, Tournament Hosted by FirstBlood.io
Press Release
•
updated: Feb 7, 2018
FirstBlood Announces PUBG Invitational Featuring Cloud9, eUnited and more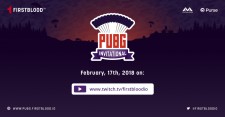 BOSTON, February 7, 2018 (Newswire.com) - FirstBlood is pleased to announce the FirstBlood PUBG Invitational, a top-level PUBG tournament featuring top teams such as Cloud9, eUnited, Noble and many more.
16 of the best North American PUBG teams have been invited to the competition and will compete in five rounds, three on Erengel and two on Miramar, to decide who walks away the victor. The competition will take place on Feb. 17, with all the action being streamed live on the FirstBlood Twitch channel [twitch.tv/firstbloodio].
The first round of teams to be announced for the competition include eUnited, Noble, Cloud9, Totality, Gale Force, GAMBINO, Shoot to Kill, Nova eSports and God Squad. The final teams will be revealed in the coming days. These teams will be playing for $1000 of physical prizes.
Alongside the announcement of the PUBG Invitational, FirstBlood is pleased to reveal that they will be bringing PUBG to their platform in the coming months. This will allow players of all skill levels to compete in a competitive environment with other like-minded players. Expect further news, including details on the private beta, in the coming months.
"We are extremely excited and proud to be hosting the FirstBlood PUBG Invitational," said FirstBlood CEO Joe Zhou. "PUBG, a game we at FirstBlood constantly talk about, and one you'll all too often find being played internally at our Boston HQ, has exploded. We couldn't wait to extend our previous success in hosting Dota 2 events to PUBG. In BITS America's, we saw Dota 2 star, BSJ (BananaSlamJamma) formerly of Team Leviathan take home the title against Team Sacred in an epic best of five series. We look forward to seeing exciting plays by the very best while bringing together an ever-growing community in PUBG. We also hope to be able to work with Bluehole to offer cash prizes for future events."
Head over to pubg.firstblood.io to find further details about the competition and of course watch the live stream when the action gets underway on Feb. 17.
About FirstBlood
FirstBlood is a thriving, U.S.-based, tech startup focused on bringing innovative technology that will help shape esports competitions and the future generations of competitive gamers. FirstBlood is constantly working towards bridging the gap between amateurs and pros using their automated tournament platform, all while giving players the power to win big while playing the games they love.
Source: FirstBlood
Additional Links