Big Moe 4 Ever: A Documentary on the Life of a Houston Hip Hop Legend
On September 16th, Wreckshop Nation is releasing a Documentary on Houston rapper Big Moe, complete with unseen footage and commentary from other influential artists in the region.
Press Release
-
updated: Sep 7, 2017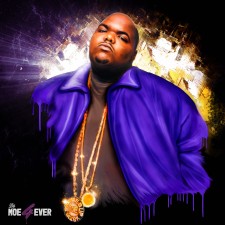 HOUSTON, September 7, 2017 (Newswire.com) - In the bustling streets of Houston, Big Moe is a legendary pioneer who forever changed hip hop with his presence in the industry. Across the globe, he is an icon that serves as an inspiration to hundreds of different artists, even the big names of today's popular music scene like A$AP Rocky, Young Thug, and Drake.
In memory of his life and legacy, Wreckshop Nation has produced a documentary shedding light on the influence he has had on the world while providing insight into his past through the eyes of his friends and family.
Kenneth Doniell Moore, commonly referred to by his artist name "Big Moe," was a Houston hip hop artist who is credited as the inventor of "rap-singing", a method of lyrical delivery that was a fusion of rapping and traditional singing. Even within the highly diverse talent pool that Houston had, his music was very unique due to the combination of soulful melodies and southern rap that he incorporated.
The documentary explores the roots of Big Moe's passion for singing, his work with the Screwed Up Click, his commercial success with Wreckshop Records and the influence he has provided to the new generation of Houston Hip Hop Artists.
Big Moe was a prominent member of the Screwed Up Click, a Houston rap collective founded by DJ Screw, a Houston DJ who experienced a surge in popularity after developing his iconic slowed down sound. Big Moe became a Houston hip-hop legend by laying down soulful hooks onto DJ Screw's mix tapes, many of which were improvised during the recording sessions.
Wreckshop Nation, which was formerly known as Wreckshop Records at the time of Big Moe's professional career, signed him to a recording contract, ultimately leading to Big Moe's debut album City of Syrup being released in 2000. The album was met with high acclaim, with the singles Barre Baby and Mann!  receiving much of the spotlight.
Wreckshop Nation owner Derrick Dixon saw firsthand how Big Moe touched Houston's hip hop community, as well as the impact he had on people personally. "Moe was just a cool person. He came in and fit right into the Wreckshop family. When he was in a good mood, the whole room was in a good mood."
Guest appearances in the film include rappers Paul Wall, Chamillionaire, Lil Keke and many other influential Houston artists. 
The documentary serves not only as a memorial for one of the most driving forces in the history of Houston hip-hop but also displays the positive impact that he provided to those around him.
After watching the documentary viewers will have a greater understanding of Big Moe's life, legacy and influence.
For media or press inquiries, please contact media relations liaison Dana Blickensderfer at Connect@hBossDigital.com.
About Wreckshop Nation
Wreckshop Nation is an independently owned entertainment company focused on promoting and producing digital content, products, and services for artists while simultaneously embracing the southern hip-hop culture that developed in Houston during the late 1990's.
To learn more about Wreckshop Nation, visit: http://wreckshopnation.com
About hBoss Digital
Based in Houston, Texas, hBoss Digital is a full-service digital marketing agency that specializes in premier digital media solutions that connect musicians with their intended audience. The expert team at hBoss Digital offers innovative, effective, and insightful online marketing methods to increase the artist's online presence, further establish their personal brand, and foster long-term success. hBoss Digital offers digital media marketing solutions for artists in the music industry. With a diligent team of talented professionals, hBoss ensures that online endeavors can be utilized to their full potential to deliver real, tangible results.
To learn more about hBoss Digital and the client services they offer, visit: http://hbossdigital.com
Source: Wreckshop Nation
Share:
---
Categories: Music, Entertainment, Artists
Tags: BIG-MOE, BIG-MOE-ANNIVERSARY, HBOSS-DIGITAL, HIP-HOP, HOUSTON-MUSIC, HOUSTON-RAPPER, SOUTHERN-HIP-HOP, SOUTHERN-HIP-HOP-CULTURE, WRECKSHOP-NATION, WSN
---