BidX Introduces the World's First Self-Service Amazon DSP Automation
Press Release
•
Sep 5, 2023
Empowering Advertisers to Unleash Unprecedented Growth with BidX's Innovative Self-Service Amazon DSP Automation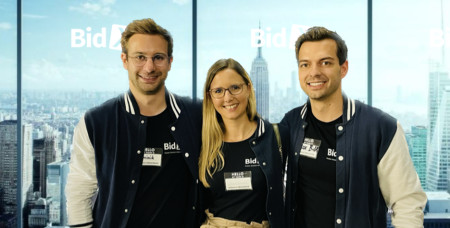 NEW YORK, September 5, 2023 (Newswire.com) - BidX, the European leader for marketing automation on Amazon, announced its Amazon DSP Automation today. This enables advertisers to now completely automate all ad types of the sales funnel along a customer journey.
In a challenging landscape with rising Cost per Clicks (CPCs) and shrinking margins, BidX is proud to announce the access to the most powerful advertising platform for Amazon merchants. This groundbreaking solution empowers advertisers to expand their reach beyond Sponsored Ads in a cost-effective and efficient manner. The key features are the automatic setup and machine learning optimization of Amazon DSP ads.
"We are thrilled to introduce this game-changing solution that allows advertisers to reach a wider audience and attract new-to-brand customers," said Dominik Thüsing, Co-Founder of BidX. "Our goal has always been to simplify the advertising process and provide businesses with the tools they need to succeed in a dynamic and competitive landscape. With this latest innovation, we are confident that advertisers will unlock new growth opportunities and drive business success."
Additional benefits of the self-service Amazon DSP Automation include:
No Minimum Budgets: Advertisers can leverage Amazon DSP without being bound by any minimum spending requirements. This flexibility allows businesses of all sizes to access the platform and benefit from its immense potential.
No Commitment: BidX's self-service automation offers advertisers the freedom to explore and experiment without long-term commitments. This empowers businesses to optimize strategies and make informed decisions based on real-time results.
Credit Card Rewards: BidX introduces an exciting opportunity for advertisers to pay for their Amazon DSP campaigns using their credit card while earning rewards. This added benefit further enhances the value proposition for businesses utilizing the automation platform.
"Expanding reach and attracting new customers are crucial for businesses to stay ahead of the curve," stated Nadine Schöpper, Co-Founder of BidX. "Our solution empowers advertisers to connect with their target audience in a more impactful and efficient way. By combining automation technology with the Amazon Marketing Cloud (AMC) analytics and our deep understanding of the advertising industry, we are providing advertisers with a competitive edge and helping them achieve their business goals."
Advertisers interested in gaining access to this groundbreaking technology can reach out to dsp@bidx.io - the BidX team will reach out with further details and provide an opportunity to be among the first to experience the power of BidX's self-service Amazon DSP Automation.
About BidX:
BidX is the leading provider of Amazon advertising automation in Europe and dedicated to helping businesses achieve their marketing objectives in the ever-evolving digital landscape. With a focus on simplifying complex advertising processes, BidX empowers advertisers to optimize their campaigns and maximize their return on investment. The introduction of the world's first self-service Amazon DSP Automation further solidifies BidX's commitment to driving innovation and providing cutting-edge solutions to advertisers worldwide. Visit www.bidx.io for more information or follow us on LinkedIn.
Source: BidX
Related Media