Bialogics Analytics Implements Closed-loop Follow-up Exam Management at Southwest Medical Imaging Limited (SMIL) to Improve Adherence of RAI
Press Release
•
Jun 1, 2023
Bialogics provides SMIL with advanced imaging insights to accelerate operational performance and accurately track and screen for adherence to Radiology Additional Imaging requirements, improving patient care and decreasing medico-legal risks.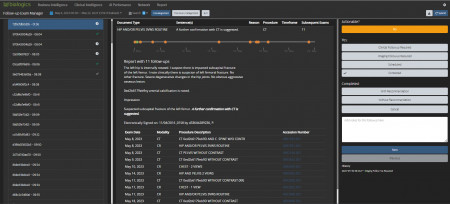 AURORA, Ontario, June 1, 2023 (Newswire.com) - Southwest Medical Imaging Ltd. (SMIL) of Scottsdale, Arizona, has teamed up with Bialogics Analytics to develop an analytics solution to ensure the scheduling of radiologist-recommended follow-up exams.
SMIL is a diagnostic imaging practice with 70 radiologists performing close to two million studies per year at six local hospitals and 19 SMIL-owned clinics in the Phoenix metro area.
Failure to carry out follow-up diagnostic imaging exams as recommended is a common occurrence that compromises patient care and exposes radiology practices and referring physicians to legal risk. Bialogics' closed-loop follow-up exam module solves the problem by using natural language processing to extract nonstructured textual data referencing follow-up recommendations from radiologist reports and converting it into searchable data elements, allowing the scheduling coordinator to manage the follow-up patient throughout the process.
The system automatically sends queries to the RIS orders a few weeks prior to a recommended follow-up exam to confirm that it has been scheduled with automatic alerts to the referring office if it has been missed.
"It improves patient care because they're being followed up in a timely and effective manner," said SMIL CEO Michael Douglas. "From a quality perspective, it helps us and our referring offices to not let things fall between the cracks, and from a marketing perspective, we are able to promote to insurance companies and referring offices about how thorough our follow-up process is and how it benefits patient care."
Bialogics' vendor-agnostic solution collects traditionally siloed healthcare data from multiple sources, including the RIS/PACS and EMR along with integration of data from radiologist reports, peer review and sub-specialty applications and Reading Value Unit lookup tables.
This allows SMIL to also employ Bialogics' solution for a wide range of other productivity-enhancing and operational uses, including radiologist workload management reporting.
"It balances the physician's workload over a given day by taking into consideration sub-specialties, Reading Value Units and individual radiologist turnaround times," said SMIL's IT Director Andrew Braga. "It automates the whole process and gives our radiologists real-time, self-serve insights into their individual workload and the workload of their section through easily accessible dashboards."
The Dimax Business and Clinical Intelligence solution is also able to select patient cohorts for research purposes, confirm the communication of critical findings to attending physicians for quality assurance and optimize workflow and equipment utilization at imaging sites.
About Bialogics Analytics Inc.
Bialogics is a leader in the precision analysis of diagnostic imaging data and patient workflows, creating a real-time ecosystem for driving the accelerated use of clinical and operational data to improve business performance and clinical outcomes. Bialogics was established in 2016 and has customers in Canada, the United States, and Australia.
Learn more about Bialogics Analytics at www.bialogics.com
Source: Bialogics Analytics Inc