BHG Financial and Make-A-Wish Team Up to Grant Life-Changing Wishes During National Childhood Cancer Awareness Month
Press Release
•
Sep 25, 2023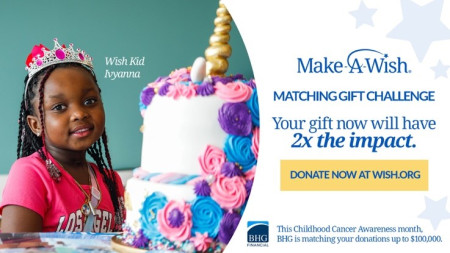 DAVIE, Fla., September 25, 2023 (Newswire.com) - For the second year in a row, BHG Financial (BHG) is partnering with Make-A-Wish®, the global organization responsible for creating life-changing wishes for children with critical illnesses to bring strength, hope, and transformation in the life of wish kids and their families.
As part of BHG's fundraising for National Childhood Cancer Awareness Month, which will span from September 25th through September 30th, BHG pledges to match every dollar donated to Make-A-Wish up to $100,000 after a successful campaign last year.
BHG has been humbled to be involved in granting wishes for children with critical illnesses, and this year, the connection with the organization has grown even more. Katarina Alshaier, a valued member of the BHG family, shared her personal experience with Make-A-Wish, highlighting the profound experience it had on her life:
"To have this tether between the company I work for and to the charity that holds the biggest space in my heart is pretty special. Make-A-Wish had such a life-changing impact on me at seven years old, that Al and Eric don't even realize the decades-long impact they're creating. These one-of-a-kind moments morph Wish kids into confident adults that want to reciprocate that same good back out to the world."
Last year's donation match campaign was a tremendous success. BHG was able to raise more than $105K, with the highest donation day raising nearly $30K. Having been established as a national partner earlier this year, the hope is that the campaign will have double the impact.
"Thank you to BHG Financial for your generous matching opportunity for Childhood Cancer Awareness Month," said Leslie Motter, CEO of Make-A-Wish America. "Your contribution creates an impact across the country and helps to transform the lives of children, their families, and entire communities."
Join BHG in their campaign by donating here.
About BHG Financial
BHG Financial (BHG) is a national leader in providing innovative financial solutions to professionals, small business owners, and consumers via their lending division, BHG Money. Since 2001, BHG has provided $16 billion in loan solutions, helping clients achieve greater financial flexibility in their businesses and personal lives. With streamlined, affordable financing that offers a concierge, full-service approach to lending, and some of the most accommodating terms on the market, BHG Financial supports clients in any phase of their financial journey.
BHG also provides high-quality assets to small- to mid-sized banks via the BHG Financial Institutional Network. One of the largest bank networks in the country, it has over 1,600 members. The network supports financial institutions nationwide by helping with asset growth via access to BHG's top-performing loans through its state-of-the-art loan delivery platform and by offering premium regulatory services.
BHG Financial is partially owned by Pinnacle Bank (PNFP) and has headquarters in Fort Lauderdale, FL, and Syracuse, NY. To represent the company's growth and dedication to continuously expanding its services, Bankers Healthcare Group became BHG Financial in 2021. For more information, visit https://bhgfinancial.com/.
Source: BHG Financial