BHCOE Achieves ANSI Accreditation by the American National Standards Institute
Press Release
•
updated: May 24, 2019
BHCOE's accreditation recognizes the importance of creating standards for the efficient and effective delivery of Applied Behavior Analysis Services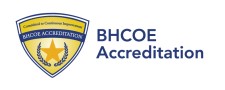 LOS ANGELES, May 24, 2019 (Newswire.com) - Behavioral Health Center of Excellence (BHCOE), an industry organization formed to develop and measure standards for Applied Behavior Analysis services, has received recognition as an ANSI Accredited Standards Developer (ASD) by the American National Standards Institute (ANSI) effective March 20, 2019. ANSI coordinates, facilitates and promotes the development of voluntary consensus standards that are relied upon by the industry, government agencies, payers and consumers across the United States and around the world.
"ANSI congratulates the Behavioral Health Center of Excellence for earning accreditation as a developer of American National Standards," said Fran Schrotter, ANSI senior vice president and chief operations officer. "The Accredited Standards Developer designation signifies a commitment to the creation of high-quality, market-driven standards in an open environment characterized by due process and ANSI's neutral third-party oversight."
BHCOE encourages the growth of quality Applied Behavior Analysis service providers through the development, implementation and measurement of clinical and operating standards that aim to optimize clinical services and reduce risk and liability. Becoming an ANSI Accredited Association, BHCOE joins nearly 250 ANSI-Accredited Standards Developers engaged in the creation and maintenance of voluntary consensus standards such as the National Science Foundation and National Institute of Standards and Technology. Across nearly every industry sector, standards developers are recognized experts in their fields; they review and populate standards openly and cooperatively to enhance the U.S. quality of life and improve the competitiveness of businesses operations in the global marketplace. BHCOE is the only ANSI-Accredited Standard Developer specific to Applied Behavior Analysis.
"Achieving ANSI accreditation is a major milestone for BHCOE. We are constantly seeking ways to further our mission while benefiting our accredited entities and the broader Applied Behavior Analysis community," comments Sara Gershfeld Litvak, chief executive officer of BHCOE. "Accreditation is the first step in getting BHCOE Standards recognized in the official register for American National Standards."
Organized and operated by commission members that represent general, public and private interests, the BHCOE is dedicated to increasing the quality, consistency and resiliency of Applied Behavior Analysis services for all. To learn more about BHCOE and current standard activities, visit www.bhcoe.org.
About BHCOE:
Behavioral Health Center of Excellence® (BHCOE®) is an international accrediting body created to meet accreditation needs specific to the delivery of behavior analysis. BHCOE develops and measures voluntary consensus standards for Applied Behavior Analysis service providers.
Source: Behavioral Health Center of Excellence