Beyond the Autism-Friendly Frontier: A New Multi-Sensory Production Welcomes "All Aboard!"
Press Release
•
updated: Oct 5, 2017
Tickets open for New York's first company solely devoted to designing for audiences with developmental differences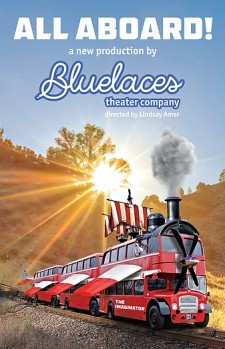 NEW YORK, October 5, 2017 (Newswire.com) - Bluelaces Theater Company is accepting ticket reservations for its second production, "All Aboard!" The show welcomes audiences ages 5-14 with autism and other developmental differences into an accessible and welcoming environment.
Presented by TLAB Shares, it runs Oct 14—22 at Theaterlab at 357 W 36th Street in Manhattan.
Saturdays, Oct 14 and Oct 21, 2017: 10:00 a.m. / 12 p.m. / 3 p.m.

Sundays, Oct 15 and Oct 22, 2017: 10:00 a.m. / 12 p.m. / 3 p.m.

Theaterlab is located at 357 W 36th Street in Manhattan.

There is a suggested donation of $25 per person attending All Aboard!
This fall, Bluelaces is bringing you a brand new multi-sensory, immersive piece for individuals with autism and other developmental differences. This new production – ALL ABOARD! – explores transportation and locomotion. While aboard "The Imaginator," our adventurers will explore all things plane, train, and automobile throughout time. It is directed by Bluelaces' Artistic Associate, Lindsay Amer, and features 4 actors and 5 Adventure Guides. Adventure Guides pair with each audience member for an individually tailored experience.
Tickets are limited; each show has an audience size of only 5 families to keep its Adventure Guide to audience member ratio at 1:1. Ticketing requests are processed at tinyurl.com/AllAboardTicketsBL, a portal which will help ensure greater ability to tailor the experience to every individual. There is a suggested donation of $25 per person attending "All Aboard!"
"Because the performers were heavily involved in show's creation, they have total ownership over the material and can modify it to fit each audience member. This allows us to not just accept, but celebrate our audiences, and it's why we love what we do!" Bluelaces' Artistic Director, Alison Mahoney said of the company's unique development process.
"All Aboard!" is presented by TLAB Shares. Start your exploration of inclusive theatre at www.bluelacestc.com.
For more, email Director of Marketing & Communications Ben Wigler at ben@bluelacestc.com - 516.528.5428
NOTES TO EDITOR
Photos available upon request.
About Bluelaces
Bluelaces shares the magic of theater with individuals with developmental differences and their caregivers. Our productions challenge theatrical convention to create immersive, multi-sensory environments that celebrate each audience member's unique lived experience. In tandem with our productions, Bluelaces' teaching artists bring drama programming to schools and community organizations. Our programming is both artistically and economically accessible, featuring a donation-based payment model.
Once a pipe dream of a few undergraduate theatre and psychology majors at Northwestern University, Bluelaces began as a student organization called Theatre Stands with Autism (TSWA), now renamed Seesaw Theatre Company. In August 2014, Bluelaces was formed in New York City by the original TSWA founders. In founding Bluelaces, the group revised their mission to incorporate individuals of all ages, rather than just children. Additionally, Bluelaces began to welcome audience members with all types of developmental differences, with autism and sensory sensitivities as touchstones in creating their productions.
At Northwestern, our founding members received training from Chicago Children's Theatre's Red Kite Project, a company dedicated to producing theater and conducting drama workshops for children with autism. Bluelaces senior staff members have also studied with London-based company Oily Cart, the company that pioneered theater for children with developmental and physical differences. The core founders for both TSWA and Bluelaces drew inspiration from both Red Kite and Oily Cart, with an added eye to one-on-one attention for each audience member, resulting in the development of our unique adventure guide model.
About TLAB Shares
TLAB SHARES invites guest artists to produce their work in our space at affordable rates. Theaterlab reviews and selects all TLAB SHARES artists based on the Company's compatibility with Theaterlab's mission and aesthetic, a proven history of artistically and aesthetically ambitious productions, and a vision for utilizing our white box Theater in a way that supports and elevates their work.
Applications for TLAB SHARES are accepted on a rolling basis. Visit http://www.theaterlabnyc.com/tlab-shares/ for more information.
Source: Bluelaces Theater Company
Related Media
Tags
Related Files
Additional Links