Beyond Imagination Announces Landmark Manufacturing Partnership With Dreamtech, Pioneering a New Era of AI-Powered Humanoid Robots
Press Release
•
Aug 7, 2023
The parties also signed an exclusive manufacturing and commercial partnership agreement with Cobotic Surgical Inc., a MedTech robotics company, for the niche market development of perioperative "cobots."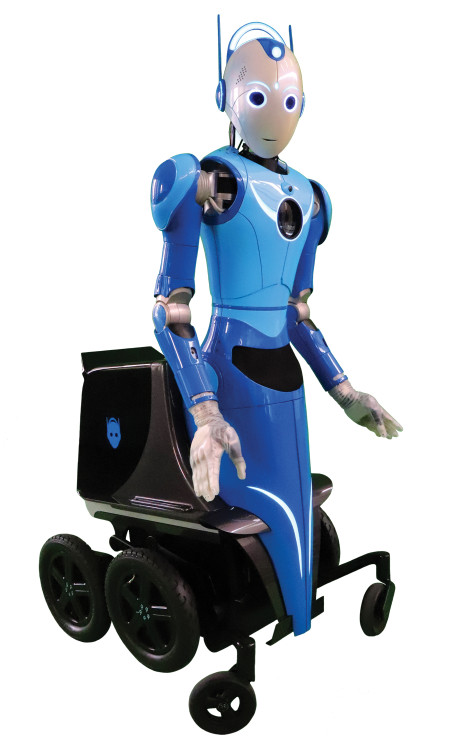 LOS ANGELES, August 7, 2023 (Newswire.com) - Beyond Imagination, Inc. (BEYOND), a revolutionary AI-powered humanoid robotics company, today announced a landmark manufacturing partnership with Dreamtech, a leading Korean manufacturer of electronic components and smart medical devices, to manufacture its various lines of humanoid robots.
Separately, Beyond Imagination formed a partnership with Cobotic Surgical, Inc. (CSI) to leverage BEYOND's intellectual property and the CSI team's extensive MedTech surgical expertise to develop a collaborative humanoid robot (cobot) that will lead to safer, more efficient, personalized, and intuitive perioperative processes. The robots manufactured under the three-party pact will be BEYOND's line of groundbreaking AI-powered humanoid cobots, manufactured by Dreamtech. This manufacturing agreement is the first of its kind for mass production of AI powered humanoid robots for commercial use.
These agreements accelerate Dreamtech's involvement in the manufacturing of Beyond Imagination's AI-powered humanoid robot hardware. Following this initial focus on perioperative cobots, the partnership with BEYOND lays the groundwork between Dreamtech and BEYOND for future humanoid robots intended for various industries and any physically dangerous workplaces. The partners also plan to explore the application of Beyond's humanoids for the consumer marketplace.
Beyond Imagination, founded in 2018 by Dr. Harry Kloor along with scientist, bestselling author, and futurist Ray Kurzweil, has been at the forefront of developing the revolutionary Beomni™ AI Brain. Beomni AI will integrate sight, sound, touch, language, motion, and spatial data without the need for direct human intervention. The Beomni AI Brain is a multimodal AI that can learn simultaneously, holistically, and directly from many different sources, including humans, to produce Expert Minds™ - focused applications that run on the Beomni AI Brain and perform specific human tasks and eventually entire lines of work at an expert level.
Stated Beyond Imagination CEO, Dr. Harry Kloor: "Beyond Imagination is a first mover in the mass commercialization of the AI collaborative humanoid space. Our Beomni AI Brain is a unique, powerful artificial intelligence system that can empower collaborative humanoid robots. Like the human brain, the Beomni AI Brain can learn and perform any kind of physical task and will be able to transform many types of physical labor by first mastering individual projects and eventually entire professions. Each learned profession becomes an Expert Mind. Beyond's agreement with Dreamtech is a vital step in this direction."
A recent report by Korn Ferry finds that, by 2030, more than 85 million jobs could go unfilled because there aren't enough skilled workers to take them. Additionally, according to the World Economic Forum, the world could be short of 13 million nurses by 2030. To respond to this global healthcare worker shortage, BEYOND, Dreamtech and CSI have targeted the medical perioperative market as the first target industry to commercialize Beomni Robots.
"Through this strategic partnership for AI-powered humanoid robots and perioperative cobots, Dreamtech's robotics business is gaining momentum," said Min Kim, Dreamtech's CEO. "We will strive to become a leading company in robotics market by leveraging the capabilities of Dreamtech and its affiliates."
These robots - which will be autonomously operated by the Beomni AI Brain -- have been developed by and tested for two and half years by BEYOND and will leverage Dreamtech's expertise in electronic hardware manufacturing.
These first Beomni AI Brain-operated cobots developed, manufactured, and marketed by the partners are intended to enhance surgical efficiency and reduce labor costs over time. With their specialized optical sensors, the digitalization of the perioperative suite will enable the opportunity to improve processes, identify damage and /or contamination on surgical instruments, and focus on addressing the reduction of surgical site infections.
Martin Roche, M.D., one of the founders and the CEO of Cobotic Surgical, Inc., also emphasized the company's mission to empower healthcare professionals: "Increasing surgical volumes will outpace the skilled surgical labor force in just a few years," said Roche. "We want to enable healthcare professionals to focus on the patient's needs, while our cobots will work collaboratively with them to improve efficiency and safety in delivering top-quality care."
The latest Beomni AI robot was featured in 2022 at various conferences and events, including live public events around the world, such as CES 2022, the Explorers Club Annual Gala, and the Future Investment Initiative Institute in Saudi Arabia, where the robot performed complex work tasks.
"I have predicted that in the next 20 years, billions of humanoids will come to market to assist mankind," added Beyond Imagination co-founder, Ray Kurzweil.
"Additionally, there are 2.5 billion households, and a $45 trillion labor market. This means the future global market size for robots is enormous," says Dr. Kloor. "Our initial goal is to produce 10,000 humanoid robots controlled by our Expert Minds in the next five years."
About The Partners:
For full details, see: https://www.beomni.ai/partners
About Beyond Imagination:
Founded in 2018 by Dr. Harry Kloor and Ray Kurzweil, Beyond Imagination has been a trailblazer in the development of the revolutionary multimodal Beomni AI Brain.
VideoLink about the robot: https://vimeo.com/manage/videos/782566278/539f1a33a0
Images available.
About Dreamtech:
Dreamtech is a leading manufacturer of electronic components and smart medical devices, committed to revolutionizing the robotics industry through its strategic partnerships and cutting-edge technologies.
For more information, visit http://idreamtech.co.kr/en/company/whoweare.php
About Cobotic Surgical:
Cobotic Surgical is a MedTech collaborative humanoid robotics company that aims to empower healthcare professionals with the world's first niche general-purpose humanoid, an AI driven collaborative robot (cobot). Dr. Martin Roche, MD, one of the founders of Cobotic Surgical, is the Director of Arthroplasty at HSS Florida. He was the lead designing surgeon of MAKO Surgical.
Forward-looking Statements:
This press release may contain predictions of future performance based on current expectations and assumptions. Such statements are subject to risks and uncertainties that could cause actual results to differ materially, and speak only as of the date we make them. Factors include market conditions, regulatory changes, and economic factors. The company undertakes no obligation to update these statements. Refer to SEC filings for detailed risk factors. Actual results may vary. Readers are cautioned not to place undue reliance on forward-looking statements."
"Beomni" and "Expert Mind" are trademarks of Beyond Imagination, Inc. Others are property of their respective owners.
Source: Beyond Imagination, Inc.
Tags
Related Files