Betterez Continues Its Bus & Motorcoach Industry Interline Module Roll Out
Press Release
•
Dec 7, 2022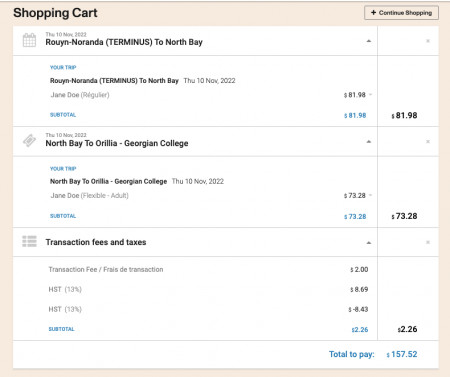 TORONTO, December 7, 2022 (Newswire.com) - Betterez, a Toronto-based travel technology platform re-inventing sales and inventory management in the Bus & Motorcoach industry, announced today that its Interline Module is live across several 'early adopter' customers in Canada. The Betterez Interline module will continue to enhance the Bus & Motorcoach Industry and individual carrier ability to have more autonomy in interline strategy and offer more travel options to passengers.
Long-time Betterez customer Autobus Maheux is among the early adopter group and has entered into "interline agreements" to sell other Bus operator's tickets. Autobus Maheux is constantly striving to improve their offer to passengers and wanted to make it easier for its customers to travel across Northern areas of Ontario and Quebec. For example, a student could travel from Rouyn-Noranda in Quebec via Maheux into Ontario and onward to Georgian College with a partner carrier.
"We are excited to have our Interline Module in production and in use today by key Betterez partners. Betterez is proud to be part of an infrastructure ecosystem that allows passengers to travel longer distances by bus with greater passenger ease and transparency of the service. Creating a great passenger experience across carriers, while simplifying operations, reconciliation, and cash clearing, has been a key goal in this process. Interline workarounds in the ground travel industry have always been very one-sided, and our solution ensures this is no longer the case," said Mr. Tal Shalit, Betterez founder & CEO.
"This is only the beginning of our design and implementation of a next-generation Interline solution which provides bus carriers with more flexibility in their ticketing systems. Our solution allows carriers to choose who they want to partner with, and our team is creating a true interline solution that is agnostic of the ticketing technology, giving operators more control and flexibility while ensuring passengers have more options," added Mr. Shalit.
"Providing passengers more options to safely travel throughout Northern Quebec and across Canada is a core part of Maheux's mission and charter," said Mr. Yannick Goupil, Group Director, Autobus Maheux. "We look forward to working with innovative carriers in Quebec, Ontario, the Maritimes, and our ticketing technology partner Betterez to extend safe, green, service-oriented bus travel to more locations," added Mr. Goupil.
Betterez looks forward to continue advancing its interline module with its existing and new partners across sales, operations, and finance functions to ensure accurate capacity management, cross-operator scanning, faster reconciliation, and automated cash clearing.
Operators interested in evaluating how Betterez can help them improve and automate processes, please contact Betterez at sales@betterez.com for an initial analysis and business case.
About Betterez: Founded in 2011, Betterez is a venture-backed, modern Software-as-a-Service for Bus & Coach sales and inventory management. Betterez' industry-leading multi-tenant architecture delivers more features, faster, at a lower Total Cost of Ownership (TCO), ensuring Motorcoach Operators never fall behind again with their Technology.
Source: www.betterez.com