BePear Celebrating International Women's Day
Body Positive Movement Disrupting the Fashion Industry
Press Release
-
updated: Mar 8, 2018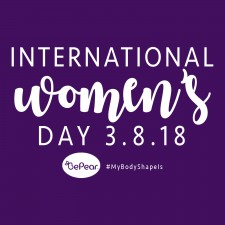 AUSTIN, Texas, March 8, 2018 (Newswire.com) - Women are revolting against stereotypes and breaking free from the boundaries many factions place around them. No longer are women accepting the sour pill of unrealistic societal norms. To this end, they instead celebrate the feminine spirit and strength on International Women's Day taking place on March 8, 2018. With this revolution, comes the body positive movement and a new clothing brand created by Bella Pear LLC out of Austin, Texas. Bella Pear has conceived the BePear Brand, a novel perspective on fashion.
"As an entrepreneur and founder of Bella Pear, and as a woman, I am passionate about disrupting the fashion industry that for so long has ignored the needs of women of different shapes and sizes," said Frances Pinedo, founder and CEO of Bella Pear.
The BePear Brand is focused on providing garments to the pear-shaped figure and curvy bodies in all sizes. Fashion is about art and beauty, but sometimes unreasonable expectations are piled on women. The average woman in the USA is 5'4", 160 pounds and wears size 14. However, typical industry designs are often based on a 5'10" and 110-pound straight body. Pinedo believes the fashion industry needs to acknowledge that women come in different shapes and sizes, all of which are beautiful. BePear brings a change to this methodology with its proprietary size chart and designs that have been specifically created for the curvier body.
As an entrepreneur and founder of Bella Pear, and as a woman, I am passionate about disrupting the fashion industry that for so long has ignored the needs of women of different shapes and sizes.
The BePear approach first designs for the average-sized pear and curvy figures - simple elegant pieces which are versatile and timeless. Keeping true to the BePear philosophy, the sizes are adjusted up and down based on this body type. Initial designs centered on the straight figure which are then sized down on height and outwards on shape are not necessarily complimentary for a curvy body. The garment will pull and tug in the wrong areas and ill-fitting clothing will make a huge difference in a woman's appearance and level of comfort. Bella Pear believes women should feel comfortable with their bodies while embellishing their curves. 
BePear arose after extensive research over the last three years on the beautiful pear-shaped figure and the needs of this market. The overriding "problem area" was the waist to hip ratio. The pear-shaped and hour-glass figures naturally have a smaller waist and are hip-endowed with the hips being up to two sizes larger than the waist under today's standard size charts. This presents a challenge when shopping as these customers may find that garments will either fit too loose at the waist or too tight at the hips. Shopping for clothing turns into a scavenger hunt regardless of a size 4 or size 24 for this figure. Consequently, the BePear brand was launched to cater to the needs of this group during the summer of 2017 through its e-commerce site www.bepear.com. 
BePear has two product lines: an exclusive collection of designs specifically created for the pear-shape and curvy bodies, as well as the BePear Approved collection, which are garments and accessories that have been vetted by the BePear team as harmonizing with this body type. With the latter, the BePear team strives to standardize the sizing such that a re-calculated BePear size is provided to the customer for best-recommended fit. BePear ships in the USA only at this time, but incredible opportunities exist in other regions of the world, and the team is assessing next markets.
In celebration of International Women's Day, the BePear team is collaborating with Texas A&M's MS Marketing Program on a "My Body Shape is...Mine" campaign. This initiative is designed around women's empowerment and will take place at the Texas A&M University campus in College Station, Texas, leading up to International Women's Day on March 8. Bella Pear firmly supports the body positive movement and women's embrace of their uniquely beautiful bodies, pushing the norms towards a more accepting and progressive world.
About Bella Pear 
Frances Pinedo is the CEO and founder of Bella Pear LLC based out of Austin, Texas. She has been a cutting-edge entrepreneur for over 20 years across many industries, some of which include financial services, restaurant, consulting and fashion. Ms. Pinedo is a problem-solver having graduated from the Massachusetts Institute of Technology (MIT) in Operations Research and Stanford University Graduate School of Business in Innovation and Entrepreneurship.
#MYBODYSHAPEIS #INTERNATIONALWOMENSDAY #PRESSFORPROGRESS #BEPEARFASHION #BEPEAR
Media Contact:
Rene Gonzalez
512-809-0863
​rene.gonzalez@bellapear.com
Source: Bella Pear
---
Categories: Fashion and Apparel
Tags: BePear, Body Positive, International Women's Day, MyBodyShapeIs, Pear Shaped Women, Women Confidence
---