Bellefit Maternity Partners With Susan B. Anthony Recovery Center to Aid in Women's Rehabilitation Efforts
Press Release
-
updated: Mar 23, 2017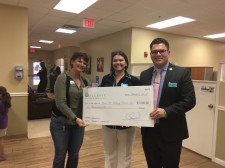 Weston, FL, March 23, 2017 (Newswire.com) - Bellefit Maternity is no stranger to the challenges many women face. Its line of postpartum girdles is just one way the company has been making a positive impact in the lives of new moms. Launched in 2008, Bellefit girdles have helped thousands of women around the world not only find comfort after having a baby but discover happiness and enjoy more confidence in their bodies.
The family-owned company has expanded its outreach even further through a new partnership with the Susan B. Anthony Recovery Center in Pembroke Pines, Fla. The SBA Center has been providing rehabilitation from substance abuse to expectant mothers and women with children since 1995. One of only a few full-service recovery centers in the United States, the Susan B. Anthony Recovery Center provides residential and outpatient treatment in a loving, structured environment, where a woman can receive the support she needs while living with and caring for her children.
On March 3, Bellefit Maternity began an ongoing initiative to donate Postpartum Recovery Girdles to Women at the SBA Recovery Center who are expecting a baby or have recently given birth. The company's general manager, Andy Suarez, and public relations manager, Carolina Suarez-Garcia, met with the residents and shared Bellefit's story and provided education about the postpartum benefits of using a Bellefit girdle.  
Additionally, Bellefit donated $1000 to the SBA Recovery Center's 'Room to Grow' Program. This program is raising funds to build a new room & board wing at the SBA Recovery Center which will increase the number of women who can be admitted to the Center.
Bellefit founder Cynthia Suarez recalled how much her own daughter struggled after having children, so she developed the product to alleviate the discomfort of an incision from a C-section and also provide a much-needed boost of confidence to recovering moms.
"Being a mom of four and a grandmother of seven, I know, first-hand, how challenging motherhood can be," Suarez said.
It was through the Center's partnership with The Rotary Club of Weston that Suarez's son, Andy, a Rotarian, met Whitney Hughson, associate director of marketing at the SBARC. When Hughson shared the stories of moms who struggle with addiction while trying to raise their children and how the Center helps women lead healthier, more productive lives, Suarez knew Bellefit needed to get involved.
"Bellefit Girdles are known to make moms' lives easier after childbirth and give them a boost of confidence during a time when women are focused on their baby and usually feel guilty about caring for themselves," Suarez said.
Helping to reduce uterus swelling by safely supporting and compressing the abdominal and lumbar regions, the girdles provide a faster and more comfortable postpartum recovery for those who have undergone a C-section or natural childbirth, or for those experiencing diastasis recti or pain.
Suarez called the partnership a perfect match.
"Our hope for women at the Susan B. Anthony Recovery Center is that they continue to find the courage, strength and support to improve the quality of their lives, so they can give the best of themselves to their children," she said. With housing for approximately 60 women at any given time during rehabilitation and an outpatient program that extends far beyond that, the Center is certain to see positive benefits from the generous Bellefit partnership.
Information to Donate time, money or items the Susan B. Anthony Recovery Center can be found at www.susanbanthonycenter.org or by calling (866) 641-8986.
To learn about The Rotary Club of Weston's community involvement and global outreach, please visit www.westonrotary.com.  The Rotary Club of Weston was chartered in 1986 and has raised over $1 million dollars in Scholarships to deserving Broward County Seniors and over $600,000 for local charities, non-profit organizations and The Rotary Foundation. The 30th Annual Golf tournament will be held at the Weston Hills Country Club on April 3, 2017 and the 20th Annual Run for Tomorrow will be held at Cypress Bay High School on December 10th, 2017.  All proceeds from these events will continue to help continue Rotary's mission and raise funds for community and international projects.
For more information about Bellefit Maternity's Medical-Grade Childbirth Recovery products, please visit www.bellefit.com.
Source: Bellefit Maternity
Share:
---
Categories: Local News, Pregnancy, Addiction
Tags: addiction, bellefit, c-section, childbirth, corset, florida, girdle, maternity, non-profit, postpartum, pregnancy, rehabilitation
---