Bella Pupa: The World's First Silkworm Powder Snack Launches on the Chinese Market
The sustainable, nutritious crisps benefit from the availability of 500.000 tons of silkworm annually farmed in China.
Press Release
-
updated: Oct 8, 2018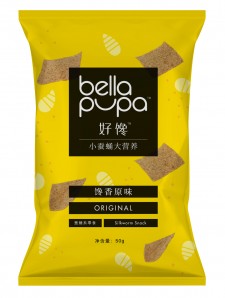 SHANGHAI, October 8, 2018 (Newswire.com) - The edible insect industry is growing rapidly with many new healthier and sustainable products. The makers of processed food containing bugs mostly use crickets and mealworms from farms in Canada, USA, Netherlands and Thailand. Only Bugsolutely has considered the potential of silkworms. Silkworms are a byproduct of the silk industry and they are fed only with leaves from mulberry trees - a perfect circular economy. The 500,000 tons produced every year in China (75 percent of the worldwide production) are highly underutilized: mostly used as feed for animals, after the silk is reeled from the cocoon. This is despite silkworms being a superfood like crickets and mealworms. They are packed with fiber, vitamins, minerals and protein. 
Bella Pupa is unique. It is the world's first snack product containing silkworm powder (20 percent). And it is also the first edible insect product to be made in China. "We are really excited: after one year of R&D, we have a yummy snack with very good nutritional values. The product won the Innovative Award from the Food and Beverage Innovation Forum," affirmed Massimo Reverberi, founder of Bugsolutely. 
The taste is really good and the market potential for this product is definitely high. It can also leverage on the fast growth of the snack category in China.
To create the new snack, Bugsolutely engaged Mill Food Intelligence, a leading food design firm. After 48 prototypes and a number of consumer panel tests, a surprisingly delicious snack was born. The product will initially be available in two flavors: Original and Angry Sichuan. 
Starting Oct.15, the product will be available in selected online and offline stores in China. The product is also available for export. "Bella Pupa caught our eyes by creating a new food category with more popular taste and fashionable design. We think insect products will become popular snacks in the future in China," commented Mote Chan, media director of FBIF (Food and Beverage Innovation Forum). Bella Pupa will initially target Shanghai but also provinces where eating insects is considered normal. The total population living in those provinces exceeds 600 million people. "The taste is really good and the market potential for this product is definitely high. It can also leverage on the fast growth of the snack category in China," declared Loris Li, associate director, Mintel.
About Bugsolutely China
Bugsolutely China (www.bugsolutely.cn/eng) is a food company specialized in edible insect products. Founded in 2017 in Shanghai by Massimo Reverberi, Bugsolutely is the first producer in the world of foods based on silkworm powder, starting with the snack Bella Pupa. Bugsolutely is also in Thailand, where it created the unique Cricket Pasta, made with 20 percent cricket flour (www.cricketpasta.com).
For more product photos, please visit http://www.bugsolutely.cn/photo-gallery.
Source: Bugsolutely
Share:
---
Categories: Food and Beverage Manufacturing
Tags: Bella Pupa, Bugsolutely, eating bugs, edible insects, silkworms, snack, superfood, sustainable food
---